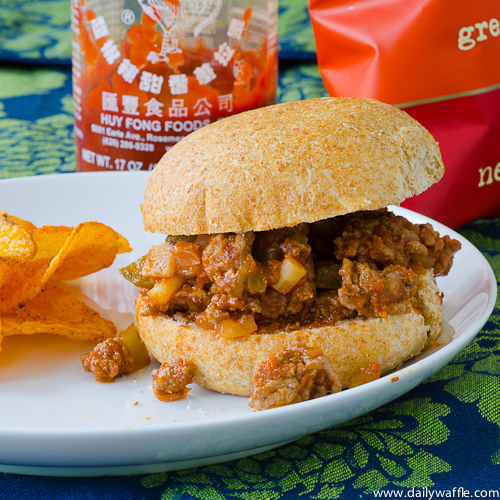 Long before the pink slime debacle, ground beef got a bad wrap. Other than its use for burgers and maybe cottage pie, it ranks pretty low on the beef totem pole. It's a rarity on upscale restaurant menus, except in comfort food preparations or in ironic, hipstery reduxes of Hamburger Helper. But I'm ok with that, it keeps ground beef sacred in a way (yes, the sacred cow), as home food.
Like most women of her generation, my grandma was a grind-your-own kind of lady. Not because she had concerns about food handling or what all was going into the grinder, it was just how it was done.
She'd get out the old Army green monster — I say old, but this one was modern, no hand crank — fit the die onto the extruder and anchor it down on the cutting board. Into the hungry maw of the grinder would go chunks of chuck roast (or whatever was cheap that week), forced down by a wooden mortar and out would come those little squiggles of ground beef.
So it's not surprising that when I think of the foods of my childhood, many of them involve ground beef. It was a different time. Chili, meatloaf, goulash (the American Chop Suey variety), lasagne, tacos, spaghetti, the list goes on and on. One of my favorites is the sloppy joe.
This sriracha sloppy joe — it's not fancy food, but it is all-American. As we roll into the long Memorial Day weekend, not all of us are going to be willing to stand out in the rain over our grills (it looks like we'll get lucky this year in Seattle, but here it's grill-or-die, rain be damned). But I say, if you can put something on a hamburger bun, with chips alongside, rain or shine, it'll feel a little more like summer.
Ingredients
1 lb. ground beef

1 small onion, diced (~ 1/2 c.)

1 green pepper, diced

1-2 celery stalks, diced

2 t. Worcestershire sauce

1 t. mild mustard powder

1/2 c. ketchup

3/4 c. crushed tomatoes

1/2 c. water

2 t. sriracha (+more to taste)

salt & pepper

1 8-bun package of hamburger buns
Instructions
1
In a large skillet, brown the ground beef over medium heat. Drain fat, if necessary.
2
Add the onion, green pepper and celery and cook until onions are translucent, 5-7 minutes.
3
Mix in the Worcestershire, mustard powder, ketchup, tomatoes, water and sriracha. Bring to a boil and then reduce heat to simmer and cook another 7-10 minutes until the sauce is slightly thickened. Season with salt and pepper and more sriracha, to taste.