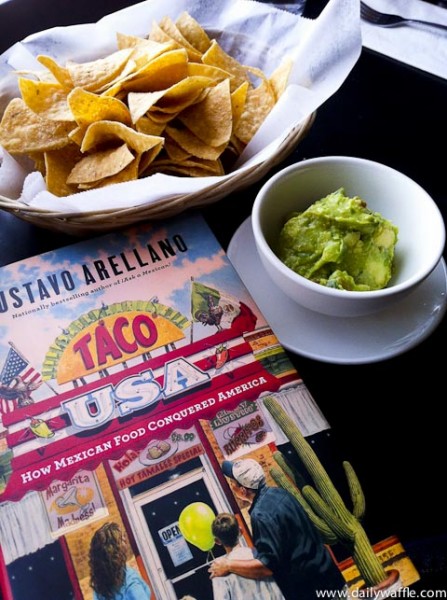 Imagine a life without Mexican food. No tacos, no burritos, no enchiladas, no nachos, no refried beans, no mole, no posole. No such thing as Taco Tuesday, no guacamole for the Super Bowl, no chips and salsa, no tamales at Christmas, no combo plates. No Cinnamon Crispas, no Doritos. Just the thought is like falling into a spinning vortex, "Nooooooooooooooooooo!!!"
So to Gustavo Arellano's Taco USA
I say, "Yeeeeesssssssss. Hell, yes!"

In Taco USA, knowing where your Mexican food comes from is a food culture imperative. In a series of essays that are part history, part sociology, part anthropology, Arellano covers everything from the history of true Mexican hot chocolate to the tamale men and chili queens to the origins of Taco Bell and El Torito. Mexican food, in its broadest definition, is now intrinsic to American food culture, and its history is worth knowing.
As Arellano says near the end of his book:
"The purpose of this book is not just to cover a cuisine whose history barely registers in the official American story, but to make ustedes hungry. I want not only to make you desire Mexican food, but also to understand it, to appreciate it further. To make you realize that whether you're inhaling a burrito, crunching through a hard taco, getting borracho on mescal, or prepping to make a mole that'll impress your friends, every Mexican foodstuff has a story and didn't just drop into our scene deus ex machina…save Jesus on a tortilla."
I grew up in Southern California, I'm already hungry for Mexican food. It feels nearly as ingrained in my life as rice and shoyu. Mexican food that measures up to a California standard may be the thing I miss the most now that I live in the Pacific Northwest. But that's the thing, no matter where you live, it's easy to take Mexican food for granted. It's always just been there. Taco USA tells you why. It's given me a context and a new appreciation for my personal history with Mexican food.
I can remember eating Cinnamon Crispas from Taco Bell in the bathtub when I was a kid (they shattered in a zillion pieces, hence the bathtub). One of the highlights of the day when my dad farmed strawberries was the lunch truck that served killer carne asada tacos on a little styrofoam tray. My 17th birthday was celebrated with friends at Chevy's. Tito's Tacos in Culver City was a regular stop, along with Grace's Bakery, when visiting family in LA (beware, that site plays the "I love Tito's Tacos" theme song instantly).
I left for college in San Diego and came back with a deep appreciation for the two-in-the-morning greasy beauty of Alberto's 3-rolled tacos with cheese, and the pleasure of sitting in the sun chowing down on Roberto's carne asada burrito with guacamole. (If you've ever wondered about the -berto's phenomenon, Taco USA covers that, too). All those experiences have a connection in history and wouldn't have been possible if some enterprising folks hadn't brought Mexican food into the mainstream. Taco USA tells their stories.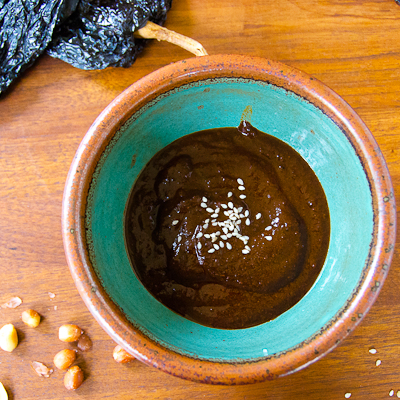 Some turn their noses up at Americanized Mexican food, viewing it as bastardization, but that's missing the point. Everything gets adapted. My early exposures to Mexican food were a gateway, both as an eater and a home cook. Today, I make posole and tamales and mole. I've added chili made with dried chiles instead of chili powder to my repertoire. To my husband's shock, last fall I bought and stashed away 25 pounds of fresh-roasted Hatch green chiles, when I've never set foot in New Mexico. (He eventually came around when I started making Hatch chile mac and cheese.) Will I dig a pit in my backyard and roast a whole goat in it? Probably not, but would I have it at a restaurant or someone else's house? Sure. There's a spectrum of experiences to have with Mexican food in America. And they're enriched by a read of Taco USA.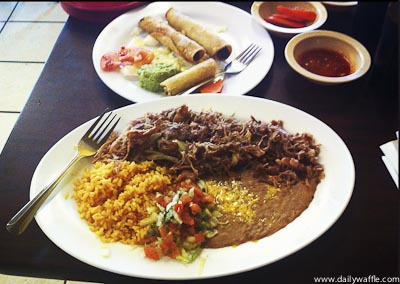 Even the Pacific Northwest — not exactly a Mexican food mecca — has it's contribution to the story with the Taco Time chain. I still can't get down with a place that serves tater tots aka "Mexi-Fries," so if you find yourself in our neck of the woods with a hankering for tacos, pass the Taco Time and head to Taqueria Los Cazadores in Poulsbo, Washington for easily the best carnitas we've had thus far in the greater Seattle area. And don't forget an order of taquitos.
What did I learn from ? Among other things:
-(Probably) why there was a Bell Beefer on the Taco Bell menu in the 80s.
-Word nerd alert: There is no etymological origin for the term "burrito."
-My life won't be complete until I've had a puffy taco in San Antonio.
-We can all blame a company called Butcher Boy for inventing a pre-fried frozen burrito that I'm pretty sure was passed off to us in elementary school as an abomination called the "Taco Snak Burrito."
-I'm glad I didn't live in an era where tortillas came in cans.
If you're not clicking over to Amazon
yet (why not?!), here are a couple antojitos from the book: