Masa Biscuits with Ham & Chipotle Jam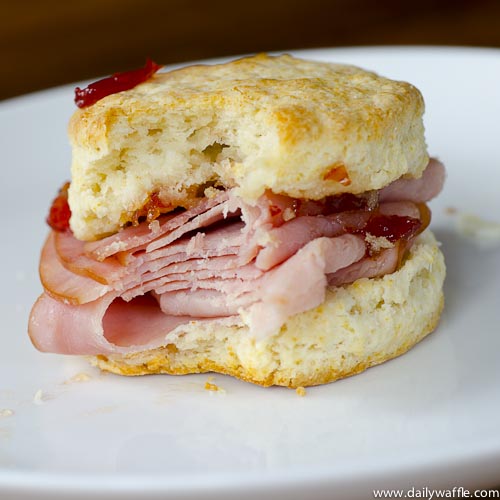 Half Price Books has been an amazing source for cookbooks. Somehow there are always good finds, whether semi-recent releases or books of a certain vintage. I always want to leave bookmarks or post-its sticking out of some books saying, "BUY THIS ONE!!" And while sometimes you know why books end up on the clearance shelf — 80s microwave cooking, anyone? — others are a mystery. The El Paso Chile Company's Texas Border Cookbook
— was one of those mysteries, but the recipe for masa biscuits alone made it a bargain at twice the price.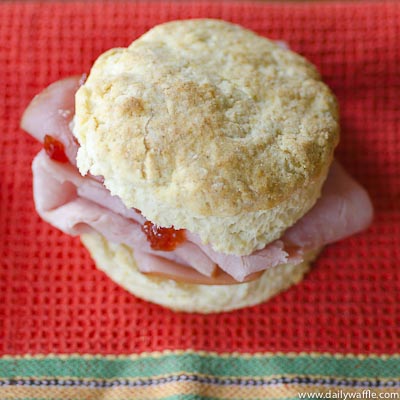 The idea is simple, almost deceptively simple. This is mostly a normal buttermilk biscuit recipe, with the addition of masa harina and some shortening. I used the Maseca I picked up a couple of months ago for tamales. And what results is more subtle and more tortilla-like in flavor than a biscuit with yellow cornmeal would be. It doesn't have the gritty texture and because the masa is gluten-free, the biscuits will be damn tender as long as you don't overwork them.
These were headed for Easter breakfast, so they're sandwiched with 2 slices of griddled applewood smoked ham and slathered with a sweet and smoky chipotle jam. Wolf also added a slice of Vermont white cheddar. The combo is simple, but ridiculously good. They'd also be fantastic with a roasted Hatch chile, maybe a little scrambled egg, and a slice of cheese.
There's nothing fancy about the jam. It's Koslowski Farms' Roasted Chipotle Jam, and it's a mix of red bell pepper and chipotle, so it's not knock-your-socks-off spicy. You can order direct, or be on the lookout at discounters like Tuesday Morning or Marshalls, which often have their jams.
This recipe is for Texas-sized biscuits, and I found that using my regular drinking glass cutter, which is a little over 2 inches in diameter, a half batch yieled 8 biscuits.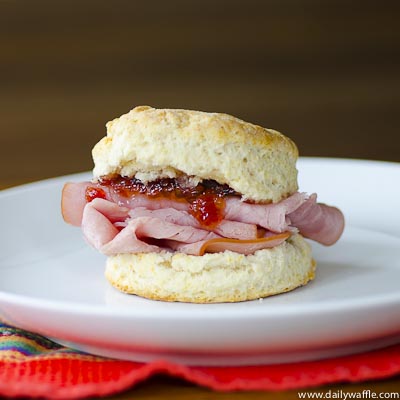 Masa Biscuits with Ham & Chipotle Jam
Author:
Michelle Jenkins | DailyWaffle (Adapted from the El Paso Chile Company's Texas Border Cookbook
Recipe type:
Breakfast, Side Dishes
Ingredients
3½ c. all purpose flour, plus more for kneading
1½ c. masa harina
2 T. plus 1 t. baking powder
1 t. salt
1 4 oz. stick butter, cut into small cubes
½ c. vegetable shortening
2 c. buttermilk
Instructions
Preheat the oven to 450F. Position the racks in the upper and middle thirds of the oven. Line 2 baking sheets with silpats or parchment paper.
In a food processor, blend together the flour, masa harina, baking powder and salt. Add the butter and shortening and pulse until the fats are broken down into pea-sized bits.
In a large bowl, combine the flour mixture with buttermilk and stir until dough comes together, it'll be slightly crumbly, but should be starting to form a cohesive mass.
Knead the dough a few times on a lightly-floured board to bring it together, and pat it into a round-ish shape about 1 inch thick. Using a glass or a biscuit cutter, cut out the biscuits and place them on the prepared baking sheets, 6-8 to a sheet, depending on the size. Gather any scraps and form them into additional biscuits. I don't re-roll the scraps, I just form them into a biscuit shape (they look a little kooky), but they don't get tough.
Bake for 15-17 minutes, until lightly browned, switching the sheets out at the half way point.