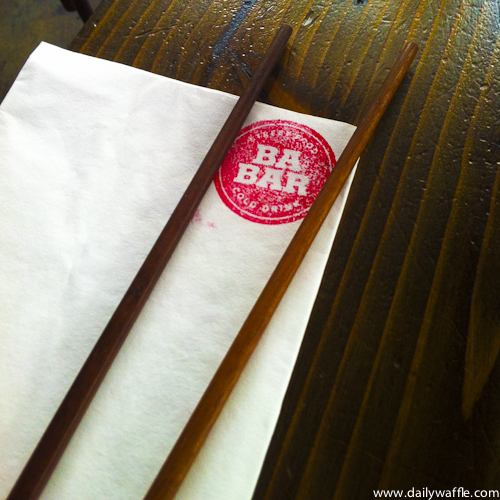 From the outside, Ba Bar (yes, Ba. Bar. Not the elephant.) looks like a coffee place. Its big windows face the street, and even as you step inside, the espresso bar with a few baked items is on your right. The floors are acid washed concrete. Walk into the main dining space and off to one side, there's an enormous, typical Pacific Northwest-looking wood bar. You might take it for a gastropub. But sit down and the menu in front of you is…Vietnamese street food.

What makes Ba Bar memorable is the juxtaposition between where you think you and where your tastebuds say you are. Ba Bar elevates Vietnamese food standbys — vermicelli bowls, pho — with ingredients you might not expect (oxtail, duck). But there's more to it than the familiar dishes. Ba Bar also spotlights the French influence on Vietnamese food with pate chaud, steak frites and macarons over at the espresso bar.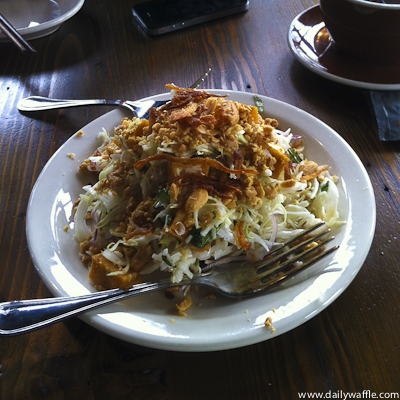 We were in on a Saturday for an early-ish lunch, just before noon. By 12:30 pm the place was filling up. We were off to a good start with the tofu and cabbage salad, which is so simple, just finely shredded regular old green cabbage, but the dressing makes it. The tofu is the fried variety, so it holds up, and while the menu claims a soy dressing, it was more like the nuoc mam cham you get with vermicelli bowls.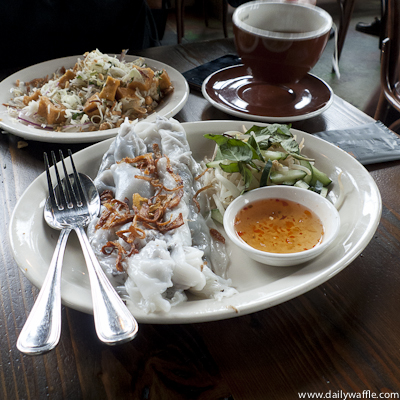 On the weekends, they offer banh cuon, a rice crepe filled with black peppery pork, so that soon followed. Lovely.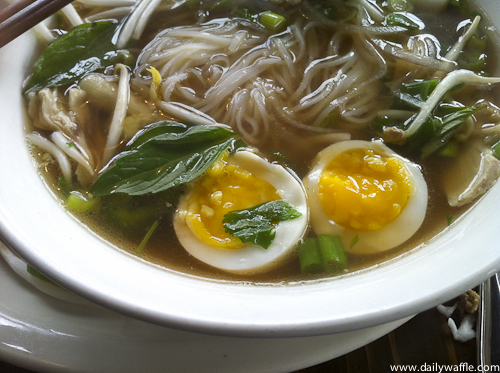 But the star for me, was the pho ga — the chicken pho. Ordinarily, pho ga doesn't even occur to me. My brain says pho should be beef, and even if I'm having the veggie pho with tofu, it's in the beef broth.
Ba Bar's pho ga has a softly boiled egg. I was sold.
It was soft boiled, but not so soft that it was completely runny. I like that with toast, but with a gorgeous broth, you want unctuousness without the messiness. And this egg was that. It might have been all that, and maybe a bag of chips.
If there was one thing that wasn't so great about Ba Bar, it was the Vietnamese iced coffee. It was a perfectly fine iced coffee, lightly sweetened. But what sets Vietnamese iced coffee apart is a really strong brew cut with sweetened condensed milk. C'mon guys, bring me a glass of ice and a separate glass with the phin filter dripping on top of the milk. This is a coffee town!
Bottom line – it's a go. We'll be back to try some of the other dishes and I'll probably be having a Moscow Mule from the bar.
Ba Bar
550 12th Avenue
Seattle, WA 98122
206-328-2030
Reservations for 8 or more