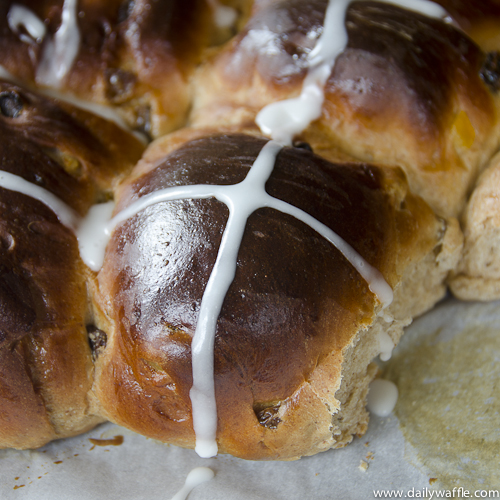 Hot Cross Buns are usually eaten on Good Friday, but whether you observe Easter as a religious holiday or a Hallmark holiday, or a little of both, they are a fantastic breakfast bread. A lightly sweetened yeast bun, they're really at their best when they're redolent with spices and fruit, with orange and lemon peel and crystallized ginger rounding out the currants or raisins.
The main dough recipe here is Donna Hay's, with a few tweaks. Hers calls for a flour and water cross baked on and then the buns are glazed with a gelatin-based glaze. Gorgeous, but I wanted to keep things simple.
I thought two tablespoons of yeast was going to create a crazy dough bomb, but the recipe claims it's to the off-set the sugar. My track record with yeast breads is mixed, so I rely on my Kitchen-Aid to make sure the dough is kneaded adequately, without overdoing it. The last time I made Hot Cross Buns they tough little hockey pucks. But here, they come out wonderfully tender.
The original recipe also calls for "mixed spice" — a mix of nutmeg, cinnamon, cloves and sometimes coriander — sold in the UK and Australia, that's not unlike pumpkin pie spice, so I subbed in Penzey's Apple Pie Spice.
The frosting for the crosses, which I wasn't 100% thrilled with, is from Simply Recipes. It just tasted sweet, I guess that shouldn't be a surprise since it's just milk and confectioner's sugar, but next time, I'm making a slightly thinned cream cheese frosting with lemon zest for them.
I made 12 buns as the Donna Hay recipe suggested, but I'd recommend making them smaller and going with 16. And finally, the 30 minute bake time yielded a slightly darker bun than I like. So start with 23-25 minutes and go from there.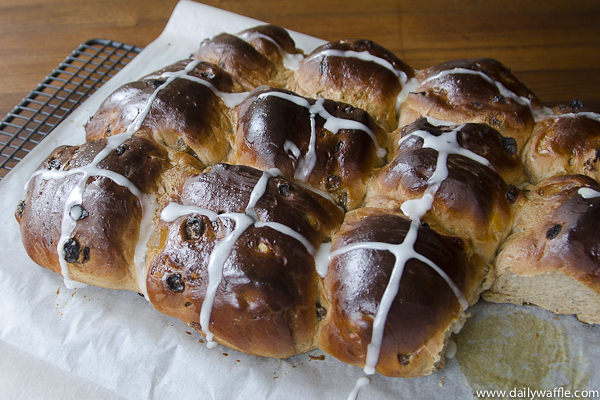 Ingredients
2 T. yeast

1/2 c. granulated sugar, divided

1 1/2 c. warm milk

4 1/2 c. all-purpose flour (King Arthur AP recommended)

2 t. Penzey's Apple Pie Spice (cinnamon, nutmeg, cloves, mace)

2 t. ground cinnamon

1/2 stick unsalted butter, melted

1 egg

1 1/2 c. golden raisins

1/3 c. candied orange and/or lemon peel and/or crystallized ginger, finely chopped

Non-stick vegetable spray

Egg wash

1 egg

1 T. milk
Instructions
1
In a small bowl, mix together yeast, 1/4 c. sugar and milk. Let sit for 5-10 minutes until bubbles form. Fit your stand mixer with a the dough hook. In the stand mixer bowl, mix together the flour, spices, remaining sugar, butter, egg, and fruit. Add the yeast mixture on low and increase the speed once the dry ingredients are incorporated. Knead the dough on medium speed until it forms a smooth, elastic ball, about 5 minutes. The dough will be sticky, so add a tablespoon of flour if needed to keep it from sticking to the bowl.
2
Spray a medium sized bowl with non-stick vegetable spray. Put the dough into the bowl. Cover with saran and let it rise until doubled in size, about 1 hour.
3
Preheat oven to 390F. Line a baking sheet with parchment paper or a Silpat.
4
Punch down the dough and form into a log shape. Divide the dough into 16 pieces and roll into a ball. Place the buns shoulder-to-shoulder on the baking sheet and cover with a tea towel. Let rise for 25-30 minutes until doubled in size.
5
Beat together the egg and milk and brush the buns with the egg wash. Bake for 23-25 minutes and check them. They should be well browned.
6
Make frosting as desired and use a ziploc bag to pipe crosses onto each bun.