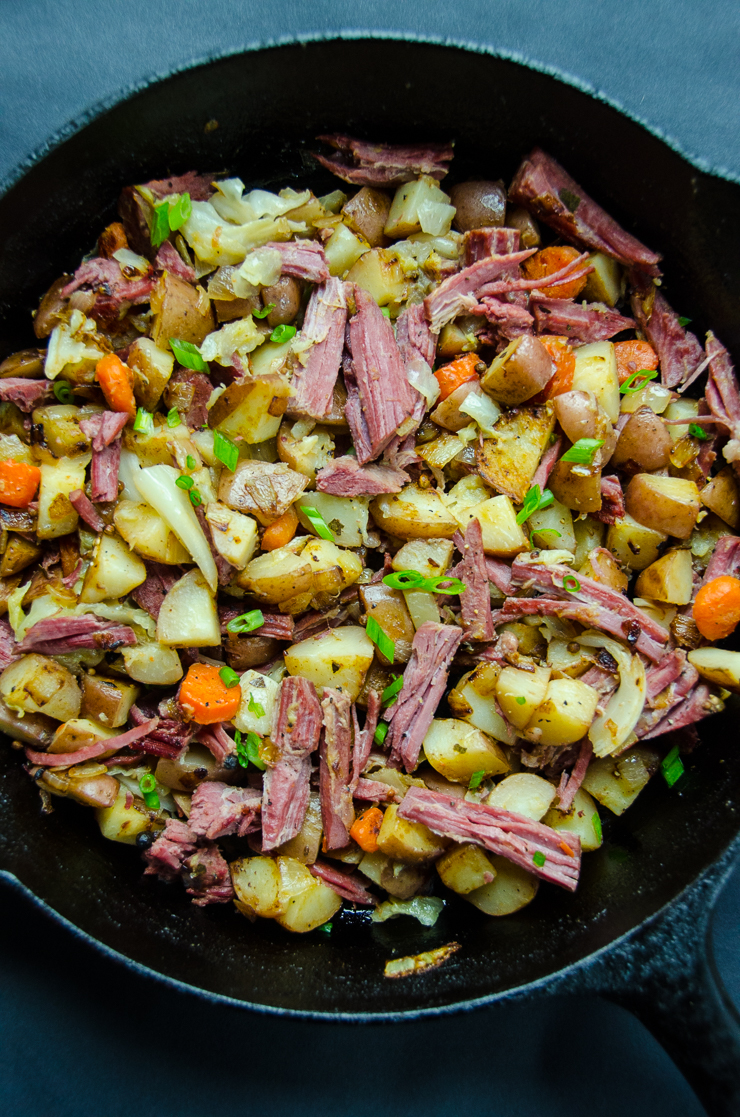 Around St. Patty's Day, my grandma always bought an extra corned beef and threw it in the freezer, so at some random time of the year, in June or maybe October, you knew corned beef and cabbage would turn up on the dinner table. Last year with the best of intentions, I bought an extra corned beef at Costco, threw it in the freezer…and it didn't come out again until this week.
I love a good corned beef sandwich on rye slathered with seedy mustard, but when I buy a corned beef, I'm really buying it to make corned beef hash. The brand my Costco carries (well, carried last year anyway), Shenson's, I want to say, is a happy medium between the dirt cheap supermarket brands and going to your butcher. This year-old slab of beef went into a crockpot with 1 1/2 c. water and the pickling spice packet, per the package directions, and cooked on high for 7 hours. If you'll be gone all day, go for 10 hrs on low. I added the carrots and red potatoes with 1-2 hours to go.
For the hash, I prefer the corned beef shredded rather than diced, but it's your call. The point is to use the leftovers from your New England Boiled Dinner, so if you've got cabbage as well, chop it up and throw it in with the carrots and corned beef. And now here's tomorrow's breakfast/brunch.
Update: 3/10/17 – Photo updated.
Ingredients
2 T. salted butter

1 medium onion, diced (~ 1 c. onion)

2 carrots, leftover from cooking the corned beef, chopped

6 medium to large red potatoes, boiled, chopped into 1 in. pieces

1 to 1 1/2 c. shredded corned beef

pepper (you probably won't need salt)
Instructions
1
Heat a 10 in. cast iron skillet over medium high heat. Melt the butter and add the onion. Cook onion until lightly browned around the edges. Add the potatoes in a single layer and allow them to brown for 3-4 minutes. Resist the urge to turn them too soon. You want some brown crusty surfaces. Turn and let brown on another side. Repeat until you get desired crustiness. Add the carrots and corned beef and season with pepper. Cook another 3-4 minutes until the corned beef is heated through. Taste it. Season with salt if needed, but I doubt you'll need it!
2
Enjoy as is, or serve with a sunny-side up or over-medium egg on top!