There's almost nothing more comforting than a bowl of noodles. No matter what country it comes from — China, Japan, Vietnam, Thailand, Korea, Italy, heck, even America — noodles fill your belly and soothe the soul. So it should be no surprise that after a 6-hour flight from Seattle to Kauai, our first stop was Hamura Saimin in Lihue.

Saimin, while reminiscent of ramen, is actually uniquely Hawaiian, born of the melting pot of peoples who worked the sugar plantations in the mid-19th century. The basic saimin at Hamura is noodles and broth with some diced ham and green onions. The special saimin pictured up top throws in everything — chashu, the Japanese variety; won tons; kamaboko, the bright pink fish cake; bok choy; green onions, and half a hard-boiled egg. It reminds me a lot of how we'd have udon at home. The noodles are eggy and the broth is rich, but the flavor at its base isn't exactly clear, and it's a secret most saimin shops are unlikely to give up.

Hamura is a locals place that's been around over 50 years – general consensus online says it opened in 1952. You seat yourself and it's expected you'll know what you want to order. They'll offer you a menu, if you seem unsure. It's no frills, but you're coming here for the soup, not the ambiance. It didn't take more than 1 visit (we had it 3x in a week) to figure out that along with the noodles, you'll want a BBQ skewer, either chicken or beef to go along with. Both are delicious. The other thing you've gotta have, that we didn't, is the lilikoi (passion fruit) chiffon pie.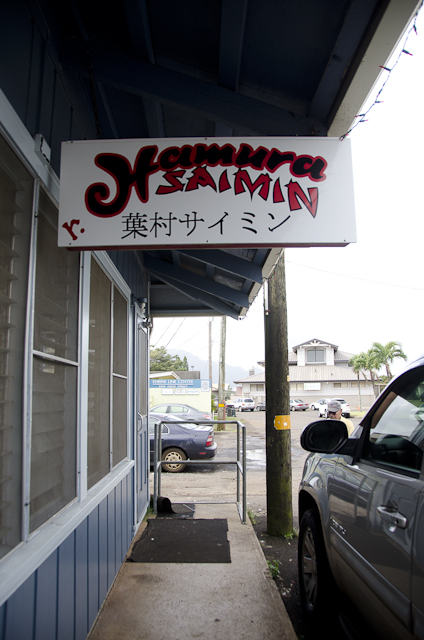 On our way out of town, with food options looking pretty bleak (the malasada cart in front of Kmart still wasn't open by the time we had to go), we stopped at Hamura on the way to the airport and picked up a last won ton min and half a dozen skewers. We pulled up to the rental car return and the attendant said, "Heeeeeyyyy, Hamura, huh?" and then we got on the bus to the terminal and the driver said, "Somebody got some Hamura saimin. What, no pie? You gotta get the lilikoi pie."
The good news is, you can make your own saimin at home, if you've got an Asian market nearby that stocks frozen saimin. We usually get the S&S brand. It does have MSG in the soup base, so if that's an issue for you, you might need to look into your own broth. But the noodles themselves only need to be reheated for less than a minute, and it does a lot less damage than a ramen packet. It won't be quite the same as Hamura's, but then again, there's nothing like being in Kauai.
Hamura Saimin
2956 Kress St
Lihue, HI 96766
Open daily at 10 a.m.