I'm usually a rigorous researcher before a vacation, so at least I have ideas for things to do and places to eat in between chilling out and reading books under swaying palm fronds. But for this trip to Kauai, I was pretty much useless. Although Pat's Taqueria was in the guidebook, I didn't know that until later, so we got lucky. But if there's one guiding light, one truism that I know is actually true it's, "Where there are surfers, good Mexican chow follows." See also: Tacofino.

Pat's is at Black Pot Beach Park, aka the Hanalei Pier. The menu is short and sweet — a few tacos, a few burritos, a quesadilla with jalapeno cream cheese and a few kids items. Wash 'em down with an Aloha Maid drink (passion-orange!!). You really don't need more than that. The carne asada does double-duty as a taco and in the steak fajita burrito, and it's the best of the bunch, in both incarnations.
Kalua pork, not so-so different from carnitas, may not be pretty, but it is amazing in tacos, burritos, quesadillas, nachos, whatever. And Pat's kalua pork taco was no exception. The shells are lightly fried and the pork is just salty enough, topped with a little cabbage. Fish tacos aren't really my thing, even in paradise, but Wolf gave it a thumbs up, despite the creamy dressing on the cabbage.
There may be another taco joint in Hanalei town, but we hit Pat's twice in a week and never stepped foot in the other. And let me tell you, that steak fajita burrito seriously hit the spot after hiking the Kalalau Trail, well to Hanakapi'ai Beach, at least. Go there, go now.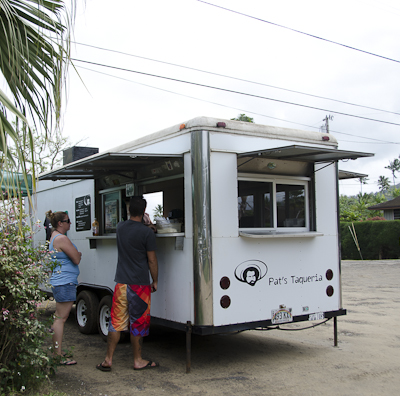 Pat's Taqueria
Black Pot Beach Park (aka the Hanalei Pier)
Hanalei, HI
Open from 12-3 pm