Airplanes and Apple Pecan Muffins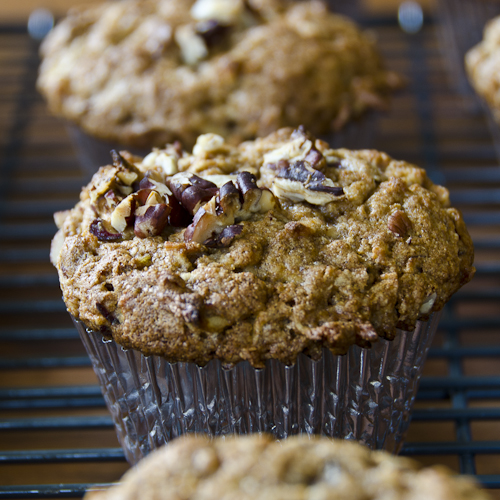 I'm in the airport security line. Passengers are taking off their shoes and jackets, putting their laptops and liquids into bins for the x-ray machine. TSA employees are calling out reminders to remove belts and money from pockets. It was a morning flight, so in the bin along with my purse and toiletries, was my breakfast.
"Oh, I'm sorry, those muffins can't go through," says the TSA guy.
I take a beat, trying to figure out what he's talking about. Then I smile, "Oh, because they look too good, right?"

Flying in the morning, you're guaranteed a crazy line at the airport Starbucks and the bagel place, so I'd packed a couple of apple pecan muffins. I still can't figure out why at least one airline hasn't been able to strike a co-marketing deal where a food manufacturer provides meals for free, not just sodas or coffee. In the meantime, I'll keep packing plane food.
The muffins were adapted from a recipe in the Joy of Cooking.
I don't use it nearly as much as you would think, but our copy naturally falls open to the quick breads section because one of the main recipes I turn to is the banana bread. It's my go-to because it's made with butter and makes just one loaf. But in a book like the Joy of Cooking there are a hundred more recipes that just never get touched (partly I think, because there aren't any pictures!). Just a few pages before that banana bread are these cinnamony muffins perfect for using up those last couple of apples hiding in the back of the fridge.
Apple Pecan Muffins
Adapted from Joy of Cooking

3/4 c. all-purpose flour
3/4 c. whole wheat pastry flour
2 t. baking powder
1 1/2 t. ground cinnamon
1 t. baking soda
1/2 t. salt
2 large eggs, beaten
1/2 c. brown sugar
1/4 c. granulated sugar
2 medium winesap apples, grated
5 t. unsalted butter, melted
1/2 cup pecans, chopped

Preheat oven to 400F. Line a 12-muffin tin with muffin cups/liners and set aside.

In a medium bowl, whisk together flours, baking powder, cinnamon, baking soda and salt.

In a small bowl, beat together eggs and sugar. Mix in the apples and let sit for 10 minutes to allow the apple juices to infuse the eggs and sugar. Mix in the melted butter. Add the chopped pecans, reserving a few to top the muffins, if desired.

Fold the wet ingredients into the dry, just until combined. Do not overmix. Using a spring-loaded scoop, divide the batter among the 12 muffin cups. Bake for 14-16 minutes until a toothpick inserted into the center of the muffins comes out clean. Let cool in the pan for 2-3 minutes before removing them to a wire rack to cool completely.