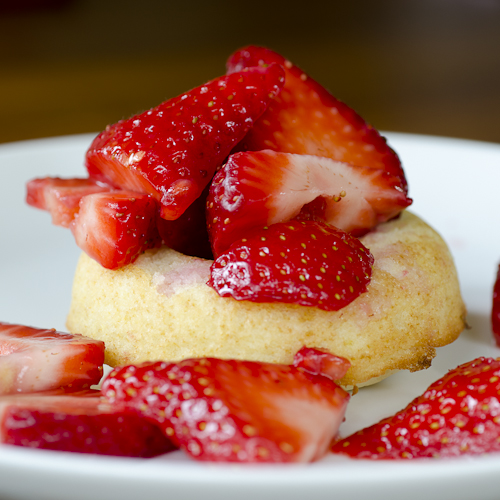 You've heard of the Donut Man in Glendora, California right? If not, let me introduce you, because what they do there, you need to know about it. The Donut Man is famous for their fresh strawberry donuts — that's right, they take a glazed donut, slice it in half and sandwich in an enormous portion of fresh strawberries (or peaches, later in the summer) in goo. It's ridiculously deliciously goo-d. Today, I was thinking about those doughnuts and meant to stop by Top Pot on the way home for a couple of glazed and then I promptly forgot. Instead, I came up with these baked strawberry shortcake doughnuts (or in this case: short, cake doughnuts). Doesn't it look like one of those spongy dessert cups they sell right next to the strawberries in the produce department?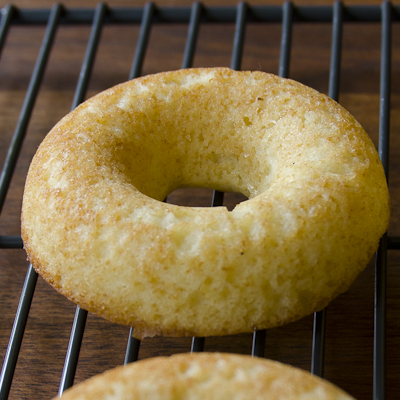 Don't worry, I wouldn't go there. Inspired by the Donut Man, I got out that doughnut pan
(woo – now I've used it twice!), and went to work on a lemony buttermilk doughnut base, because plain cake wasn't going to cut it. I think that pan is gonna be seeing a little more action this summer.
As for the strawberries, I tend to have a pretty light hand on sugar for macerating. Get berries that are good and ripe and they don't need much to sweeten them. The upside here is you're using less sugar, but as it macerates, it also generates less juice. So if you want more juice, go for a little more sugar. And what about the whipped cream…I mean, what shortcake doesn't have whipped cream? Well, the Donut Man's strawberry donut doesn't have whipped cream…aaaaand I didn't have any at home.
Lastly, this is a baked doughnut, and as we found out last time, it's more dense and cake-like, than truly doughnutty. Even still, topped with the berries, this shortcake doughnut is a reminder that spring is just around the corner.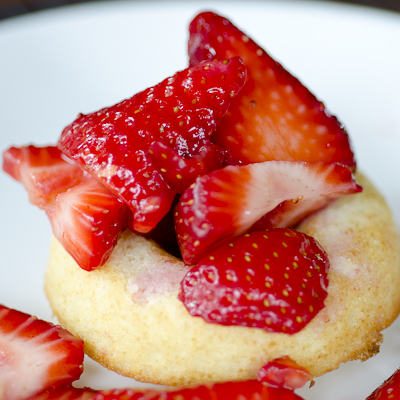 Baked Strawberry Shortcake Doughnuts/Donuts
Prep time:
Cook time:
Total time:
Ingredients
2-3 baskets of strawberries, hulled and sliced
2 t. granulated sugar
Lemony Buttermilk Doughnuts
Adapted from King Arthur Flour
1 c. all-purpose flour
1/2 c. granulated sugar
1 t. baking powder
1/4 t. salt
2 eggs
2 T. milk
1 small lemon, zested and juiced (I used all the zest and juice from half the lemon)
3 T. vegetable oil
1/4 t. vanilla extract
Non-stick cooking spray
Whipped cream (optional)
Instructions
Preheat oven to 375F. Spray the doughnut pan with non-stick cooking spray.
Mix strawberries and sugar together in a small bowl. Refrigerate for 30 minutes to an hour.
In a medium bowl, whisk together the dry ingredients.
In a small bowl, mix together eggs, milk, lemon zest and juice, vegetable oil, and vanilla.
Add wet ingredients to dry and mix just until combined. This is key. Don't over do it. Spoon the batter into the doughnut pan, filling each about half full.
Bake for 10-12 minutes, until the tops spring back lightly. Let cool on a baking rack for 2-3 minutes and then unmold the doughnuts to cool completely.
Top each doughnut with a couple generous spoonfuls of strawberries. Add whipped cream, if desired.