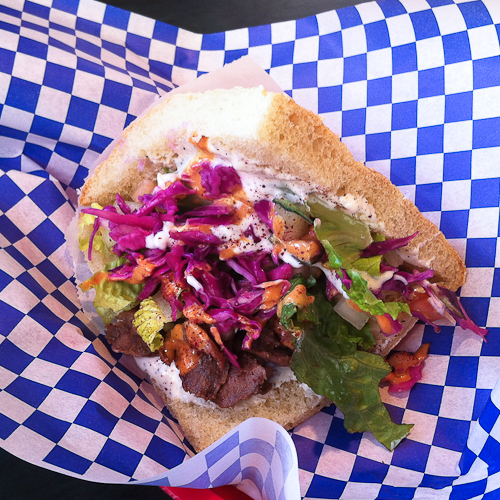 The last few days have been completely amazing in Seattle. Sunny as all get out. You don't know how exciting sunshine is until you haven't had it for awhile. On Saturday in all that beautiful sunshine, we headed downtown with a plan to stuff our faces, first at Sweet Iron, a newish liege waffle place we hadn't yet tried, and then to hit The Berliner, a doner kebab joint in Pioneer Square.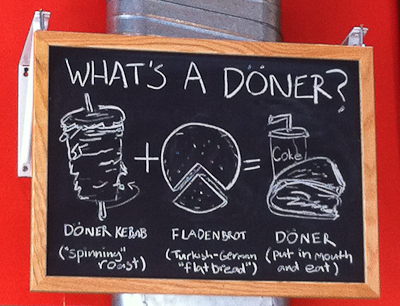 So, what's a doner? More or less, it's a Turkish gyro sandwich usually made with lamb. The Berliner's spin on it, comes by way of Germany, where doner is hugely popular, and it's served on fladenbrot, a seeded flatbread not unlike focaccia. The Berliner offers both lamb and chicken and the menu includes a number of vegetarian sandwiches and salads as well. The regular sandwiches go for about $7.50 with a small coming in at $4.19. Full menu is here.
So how was it? Really good. The picture says it all, it's fresh and made once ordered. The lamb is sliced off the spit thinly and is balanced by the crunch and freshness of the cabbage/lettuce mix. The garlic yogurt sauce is indeed garlicky. The doner above was a late night (but served at 11 a.m.?) Berliner with lamb and special sauce. While the regular comes on the fladenbrot, the small size comes on a pita, which holds up well to the yogurt sauce all the way to the last bite.
We visited the Pioneer Square shop, across from where Elliot Bay Books used to be before they moved. There's also a location in South Lake Union. In Pioneer Square, they're only open until 7 pm, which is a shame on the weekends. I'm sure they could do killer business with the bar crowd.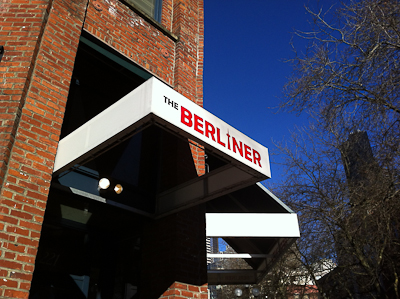 The Berliner
221 1st Ave. South
Seattle, WA
206-838-0339