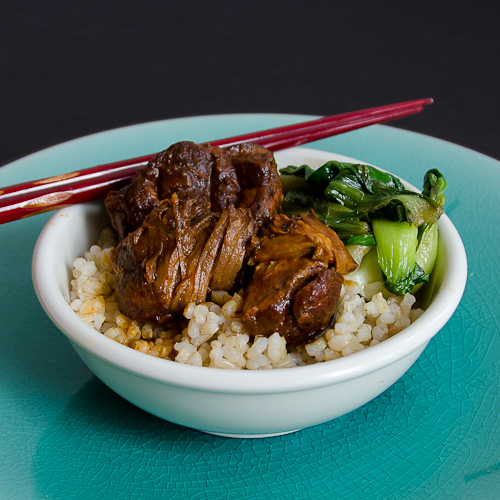 It's almost February. We're in the thick of winter, when a slow cooker should be getting a real workout. But strangely, I haven't been using mine that much. I like doing soups and chilis on the stove, but the truth is, the slow cooker is almost a magical appliance. You throw in a few things, cover it with the lid, abracadabra and 6-8 hours later, you have something amazingly delicious. It took this Coca-Cola Braised Pork shoulder to remind me just how magical it can be. I'm not even going to feign modesty and say, "Oh, it's pretty good, you might like it." I'll just say it, this pork shoulder is super tasty. It's not just good, it's gooooooooood.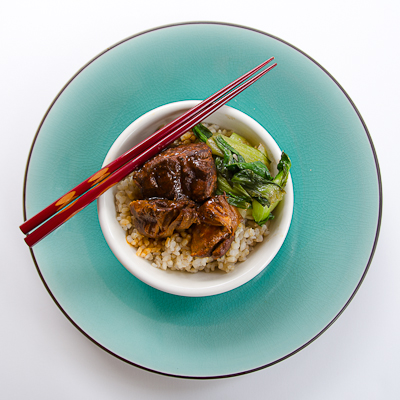 The standard Coke-braised pork shoulder relies mainly on the soda for flavoring, but this one builds on that base with gochujang for heat, soy sauce for its umami-ness, rice vinegar for a little tang and garlic, ginger and green onions as aromatics. Over the six hours, the juices reduce and intensify into a rich reddish sauce without being cloyingly sweet, and its perfect for drizzling over your rice, or over a pulled pork sandwich.
I also brown the meat before putting it into the crockpot, it's not 100% necessary, but the browning definitely provides extra flavor and gives the sauce something to hold onto as it reduces.
This was a main course for us, served with baby bok choy, simply stir-fried in garlic and soy sauce. But this could easily be a great little Superbowl snack if you turn it into a pulled pork sandwich. Top it with a quick carrot and radish slaw and with the reduced sauce, you're off to the races.
Ingredients
~ 3 lbs. pork shoulder, cut into 3-4 in. chunks

2 c. Mexican Coke (w/ cane sugar)

1/4 c. gochujang

1/4 c. low-sodium soy sauce

1 T. seasoned rice vinegar

2 T. mirin

4 green onions, white and green parts, cut into 1 in. lengths

2 large garlic cloves, smashed

1 in. piece of fresh ginger, sliced

1/4 t. ground black pepper

2 T. canola oil

salt & pepper
Instructions
1
Whisk together the Coke, gochujang, soy sauce, vinegar, mirin, green onions, ginger and garlic.
2
Season the pork chunks with salt and pepper.
3
Heat a skillet over medium-high heat. Add the canola oil. Brown the pork chunks until well-browned on all sides. It may take 2 batches. Pour the marinade into the pan to deglaze and scrape up any brown bits. Add all ingredients to the slow cooker and cook on high for ~ 6 hours.