If you grew up in Southern California, you're probably no stranger to Hadley's. It's an institution out in the desert, and it's synonymous with 1 thing — dates. When I was a kid, we'd drive out to Palm Springs, passing the dinosaurs off the 10 freeway, and stop off for a date shake. Medjool dates are wonderfully sweet and sticky and they're amazing when whirled up with milk and vanilla ice cream in a blender. But my dates were headed to breakfast, in these banana maple date scones.

The original recipe actually comes from a vegan cookbook,Veganomicon
. I'm not vegan, but I'm always interested in alternative ways to prepare things, and these seemed perfect for those mornings when you're in the mood for something like a buttermilk biscuit but not for a full on butter assault. The texture on these little guys is closer to a drop biscuit and while I was concerned that a scant 1/4 cup of maple syrup wouldn't be enough to really sweeten them, the dates do the job.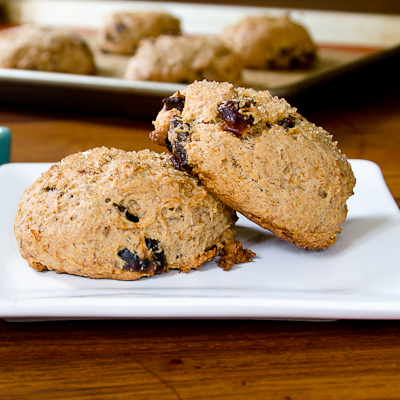 Ingredients
8 oz. Medjool dates, pitted and chopped finely

1 T. all purpose flour

1 c. overripe banana, mashed (about 2 large ones)

1/3 c. canola oil

1/3 c. milk

1/4 c. maple syrup

1 c. all purpose flour

1 1/4 c. whole wheat pastry flour

2 t. baking powder

1 t. cinnamon

1/4 t. nutmeg

1/2 t. salt

Demerara sugar to sprinkle
Instructions
1
Preheat oven to 350F. Line a baking sheet with parchment or a silpat.
2
In a small bowl, coat the dates with 1 T. flour, breaking up any clumps.
3
In a medium bowl, whisk together the flours, baking powder, cinnamon, nutmeg and salt. Set aside.
4
In another medium bowl, mix together the canola oil, milk and maple syrup. Add the dry ingredients to the wet and stir just until combined. Fold in the dates.
5
Scoop out the dough, using a 1/3 c. measuring cup or an Oxo ice cream scoop and arrange them on a sheet about 2 inches apart. Flatten gently with a lightly floured hand and sprinkle with demerara sugar.
Notes
Adapted from Veganomicon