image from GiadadeLaurentiis.com
2011 was the year my friend Nicole turned me onto Tastespotting and inspired me to get serious about the photography on this blog. Rather than just looking to the posts for culinary inspiration, I started studying the photos on the site, how people were styling and lighting the food. I started looking at food mags in a totally different way. I read about how hard it was to get photos accepted and I took my lumps with critiques on (under)exposure and composition, but once I managed to get photos accepted on both Tastespotting and Foodgawker, a light clicked on. All that led me to enter a photo contest Giada de Laurentiis sponsored on Facebook.

It might sound silly, but one of the things I'm proudest of from 2011 is being named among the winners in that photo contest and having one of my pictures featured on Giada's web site. The meatballs in the bottom corner are mine. It just went up with the recipe yesterday.
For anyone who's just getting started and trying to get photos accepted on the food sites, I'll say try to take the feedback and apply it, instead of feeling like its personal rejection. The editors see a lot of photos. In my head, I'm hoping over time the editors start to notice, hey dailywaffle's photos are getting much better. I don't know if this actually happens, but I'd like to think so. Yeah, sometimes the critique is vague, but as long as I'm not getting dinged on a technical issue (lighting, exposure, focus/out-of-focus, etc.), I'm ok w/ that. Composition and what makes a compelling image are probably among the most subjective criteria. Sometimes what you think is worthy and what the editors at the sites like, just isn't the same.
Anyway, let's get to the food.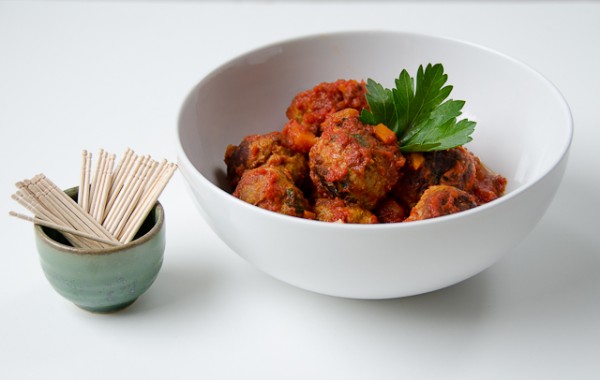 The meatballs are made with turkey and kicked up with, wait for it, ketchup and parmesan cheese. While intended as an appetizer, you can make them big or small. So as we all roll into this first month of 2012 with an eye to healthier eating, they're a nice option to have either solo or with whole wheat spaghetti.