It might seem like a weird time to be talking about cabbage when everything else in the food world is about sweets or appetizers or booze, but I'm doing it. When we all come out on the other side of these holidays, it'll be time to think about vegetables, including that winter workhorse, cabbage.
Like the rest of its cruciferous brothers and sisters — broccoli, kale, cauliflower — cabbage has been sustaining people around the globe through bitterly cold winters for ages. But it gets no credit. You might love your grandma's cabbage rolls, but all it takes is one overboiled, sulfurous cabbage stinking up the house and…take the "L" out of lover, and it's over, baby. I'll put it to you that there's a lot to love about cabbage (did I mention that it's high in vitamins C and K?) and since I'm telling you about it now, there's no reason not to grace your table (maybe even your holiday table!) with this braised red cabbage with apples.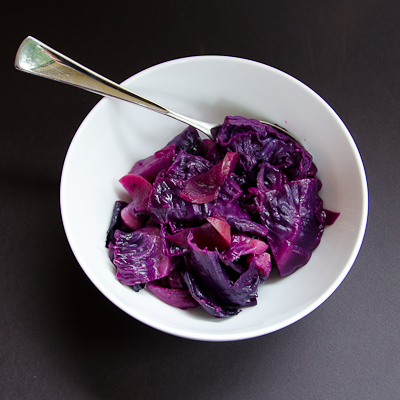 I'll tell you, the reason I made cabbage at all is that it turned up in my Full Circle Farm CSA box. Last week it was a savoy that I used in the beerocks and this week it was a red. Lately I've been letting the vegetables dictate dinner, so braised red cabbage led the way to roasted fingerling potatoes and bratwurst in a little celebration of our German heritage.
Just one note – cutting the cabbage halves into thirds results in larger than bite sized pieces, so you can go a little smaller if you like, but you don't want it to mush out.
Ingredients
1 T. butter

1 small red cabbage, ~2 lbs., halved, cored and cut into thirds

1 small onion, sliced

1 medium pink lady apple, sliced thinly

1 bay leaf

1/2 c. chicken broth

1/4 c. apple cider vinegar

2 T. sugar

Salt & pepper
Instructions
1
Melt butter in a Dutch oven over medium heat. Add onion and cabbage and cook until it begins to wilt, ~ 5 minutes.
2
Add the apples, chicken broth and bay leaf.
3
Cover and reduce heat to medium-low and cook for 20 minutes, stirring occasionally.
4
Stir in vinegar and sugar and continue cooking until cabbage is softened, another 5-10 minutes.
5
Season with salt and pepper.