I think it was seeing Rick Bayless win Top Chef Masters season 1 with his Oaxacan Black Mole that pushed me over the edge. If we go to a Mexican restaurant and they have mole, I'm definitely ordering it. It's great sometimes, and others it's a flame out. But at home, unless you're going to make it from scratch, Dona Maria mole in a jar is usually your only option. But now that I've made Bayless' mole, there's no going back.

No bones about it, making this mole takes some time. You might have to sit down when you see the ingredient list and the method. It takes planning unless you've got an extremely well-stocked pantry. But you know what, nothing compares to a mole made from scratch. Put in the time now, and you'll be reaping the rewards later when you bust a bag of mole out of the freezer and throw it in your slow cooker with a few chicken breasts.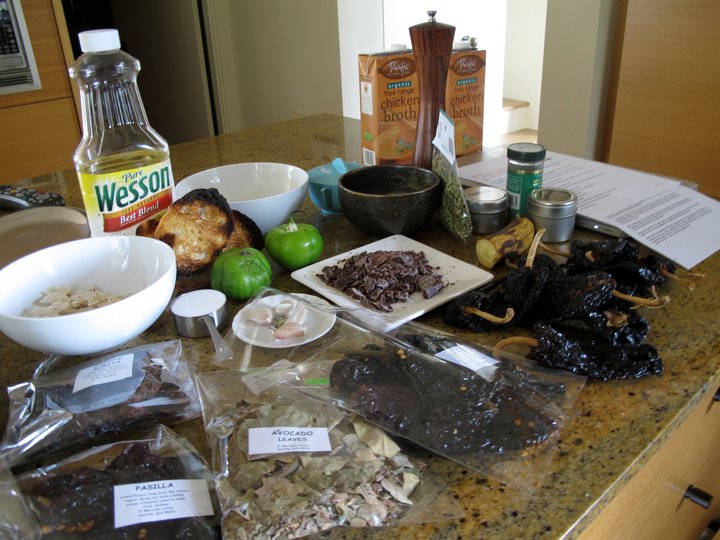 I'm not doing a play-by-play on making the mole. We'd be here for years. I don't even actually have photos of everything. I just want you to know upfront what you're getting into. Seriously. This is the one time I've ever really done mise en place like this. Look – I even printed out the recipe instead of gumming up the touchpad on my computer!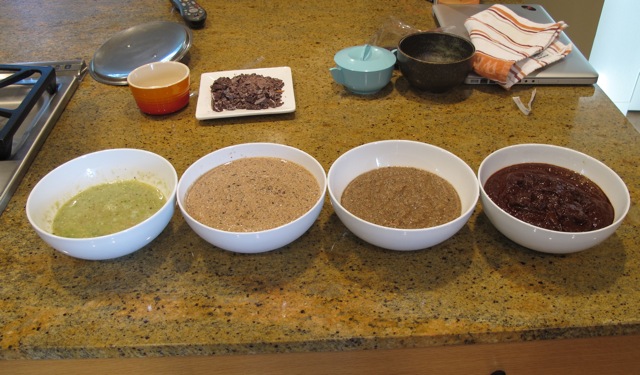 Long story short, you go from a full counter of ingredients to these four bowls, the 4-part harmony of your mole. You cook each one down, adding one to the other until you get to the end.
In March when I did this, we had mole enchiladas the day after, using roasted chicken – no crockpot required. Then I froze about the rest in 2 cup increments in freezer bags. Fast forward to November. Pull a bag from the freezer, get out the slow cooker and in a few hours you'll have the filling for chicken mole burritos. Do you have to do this in a slow cooker? No, you can do it in a pan, but I wanted to make sure the chicken was tender and easily shreddable.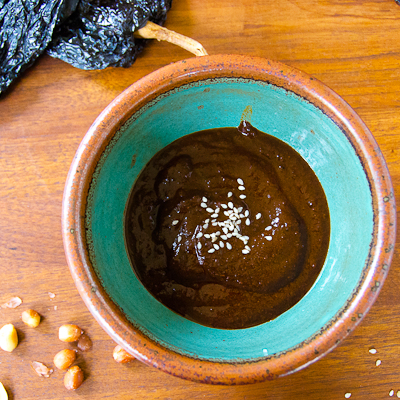 Ingredients
2 t. olive oil

3-4 boneless, skinless chicken breasts, cut in halves

Salt & Pepper

2 c. Oaxacan black mole sauce (made from recipe linked above), thawed

1/2 c. chicken broth (if needed)
Instructions
1
Heat a skillet over medium heat and add olive oil. Season chicken breasts with salt and pepper and cook until browned on both sides. Chicken will not be cooked through.
2
Add the chicken breasts to the slow cooker and mix in mole. The chicken and mole will create some additional liquid, but if it seems too thick, add up to 1/2 c. chicken broth to thin it slightly. (I didn't do this, it'll depend on your mole).
3
Cook on high for 4 hours.