One of the best things I've ever eaten in an airport was a ginger slice in Auckland, New Zealand. Think of a bar cookie with an almost shortbread-like crust, topped with a thick ginger icing. But this is icing with fire power — the ginger is no afterthought and doesn't play second fiddle to molasses or cinnamon or allspice or anything else.
Right about now everyone goes crazy for gingerbread with its earthy, spicy richness, chock full of molasses, nutmeg, allspice, and oh yeah, ginger. And I'm right there, too. I made a batch of molasses (really, gingerbread) cookies a couple of weekends ago from a Prudence Penny recipe from waaaaaay back. But they weren't much to talk about (um, hard and stale at the same time on day 2?). So then yesterday while doing a little DailyCandy catch up reading, I came across the Meatball Shop's Ginger Cookies recipe with a ginger lover's triple-threat: fresh, ground and, yeah crystallized. No molasses in sight! All I can say is, thank you Daniel Holzman and David Chernow.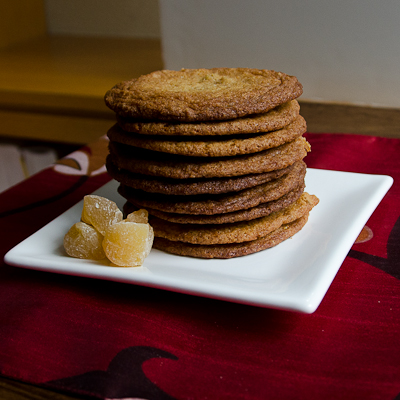 With a stick and a half of butter, these bake up super flat and chewy — like flying saucers, or maybe frisbees. I've made a few tweaks to the original recipe, including adding half whole wheat pastry flour — these don't suffer from it one bit. (Hey, you're getting a little bit of fiber while snarfing these cookies). They're so buttery, I'm convinced the whole wheat gives them a little something extra to hold onto. I also upped the salt by a 1/4 teaspoon. And finally, maybe it goes without saying, make sure your ground ginger is fresh, it'll make a difference.
So what's the connection between meatballs and cookies? Well, you've got to have dessert after a few meatball sliders, don't you? I haven't been to the Meatball Shop yet, but thanks to Sabzi and his Beatballs tracks inspired by the Meatball Shop, it's on my list for the next time I'm in New York (NYC friends, take note!) 🙂
And last thing — if you're really into ginger, you've got to track down Dundee's Ginger Preserves. You probably know Dundee for their Orange Marmalade, but this ginger jam is my new fave, along side fig, for cheese plates. Fantastic.
P.S. The Cookie Monster becoming Veggie Monster rumor that snopes dubunked in 2007 is rearing its head again, I don't know if it's true this time, or just urban legend. Cookies are dead, long live cookies!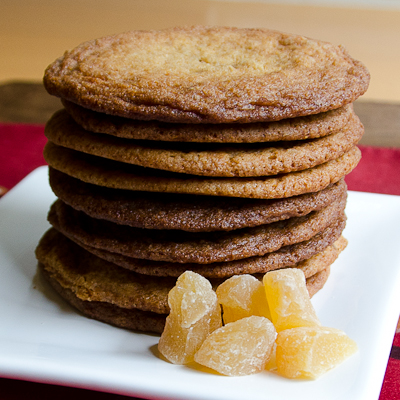 Ingredients
12 T. (1½ sticks) unsalted butter

1 c. sugar

1 large egg

1 c. all-purpose flour

1 c. whole wheat pastry flour

1 1/2 t. baking soda

1/2 t. salt

1 T. ground ginger

1 T. fresh-grated ginger

1/4 c. crystallized ginger, finely diced

2 T. Lyle's Golden Syrup
Instructions
1
Preheat oven to 350F. Line a jelly roll pan with parchment or a silpat. Set aside.
2
In a large mixing bowl, cream butter and sugar together with a hand mixer on high speed until light and fluffy, about 3 minutes. Add egg and continue mixing on low until incorporated.
3
In another bowl, whisk together flours, baking soda, salt, and ground ginger. In a small bowl, mix together fresh ginger and golden syrup.
4
Add half the flour mixture to the butter mixture and mix to combine with a wooden spoon. Add fresh ginger/golden syrup mix and crystallized ginger. Stir to combine. Add remaining flour mixture. Refrigerate for 30 minutes to an hour.
5
Using a small ice cream scoop, scoop dough into 1-inch balls and place on prepared baking sheets. These cookies will spread, 6 on a sheet was the max (without having them touch after baking).
6
Bake for 12 minutes, rotating pans halfway through, until cookies are brown around the edges and lightly colored in the center. Let cool on baking sheet for 2 minutes moving them to a rack to cool completely.