After seeing all these amazing baked doughnuts on various blogs, I finally caved and bought a doughnut pan. I've made 3 batches now — caramel apple (minus the caramel topping), and 2 chocolate ones with different cocoa. But I'm just not sold. They're more like doughnut shaped muffins. Somehow I thought this pan was going to magically make doughnut shop-like doughnuts. I can just hear Alton Brown saying, "That pan's a unitasker. You know better. A real doughnut is fried at 365 degrees for 1 minute per side." And if he said that, he would be right. But that's not where this story ends.
I was reminded through this doughnut experiment…
Hershey's was the main cocoa powder we had in the house when I was a kid, and at some point we became a Nestle family. Later, I discovered Dutch-processed or "Dutched" cocoa, which created a more chocolatey hot cocoa and richer brownies. But lately, I've gotten lazy and just bought what they had at Trader Joe's…which is a just fine natural cocoa. It's what I used to make the first batch of these chocolate doughnuts. Yeah, that middle doughnut up there? The one that you probably thought was pumpkin or apple? That's a natural cocoa doughnut. The others, which actually look chocolatey, are made with Hershey's Special Dark
, which is part natural, part Dutch-processed. I cheaped out at the grocery store because I wasn't going to pay $14 for a box of Droste, when I knew it would be less at Cost Plus or Amazon.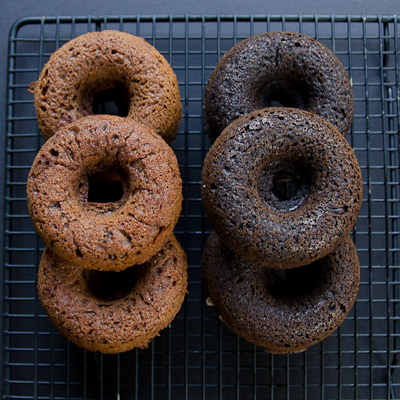 I like a doughnut to stand on it own, so these are au naturel. Glaze anything and it'll undoubtedly taste better, or at least sweeter.
On flavor, there was no contest. Natural versus Dutched made a big difference. The natural cocoa batch hardly had any chocolate flavor at all and was the instigator for this whole exercise. The Hershey's Special Dark had good chocolate flavor, at least on par with most doughnut shops, and I'm sure going even further with what's called black cocoa, an ultra-Dutched cocoa, which Oreo cookies are made from, will make a huge difference. King Arthur has the black cocoa here for $8.95 for a 12 oz. bag. I'm ordering some. Because even if I give up on this doughnut experiment, I've always wanted to make those flat chocolate Nabisco wafers — they make great mini ice cream sandwiches.
David Lebovitz has a good FAQ and primer on cocoa, and Cook's Illustrated did a comparison of various national brands several years ago. Worth reading if you're looking for a truly chocolatey home baked doughnut.