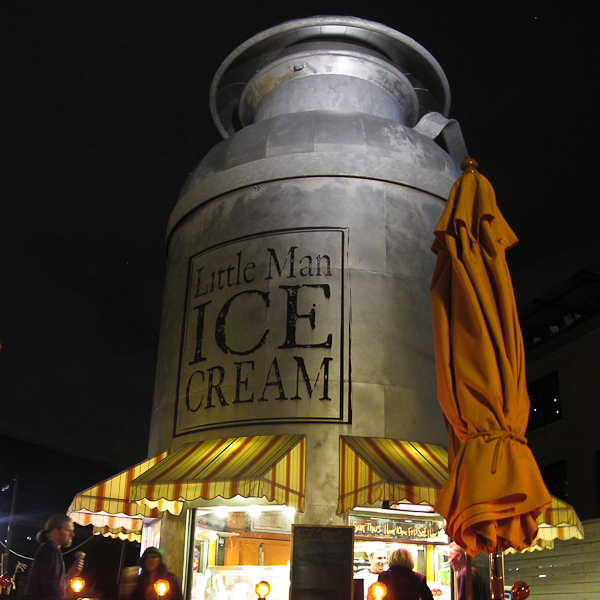 The last couple of weeks, I've hardly been home, what with work taking me to the Bay Area for several days and then I was in Denver for my friend Lara's baby shower. So there's been a lot of eating and tweeting, but not much new posting!
There is a ton of good food happening in Denver, here's a quick look at a few of the spots we hit over the weekend.
I brought Seattle weather to Denver on Saturday, but as we all know, neither clouds, nor rain, nor chilly temps will stop a Seattleite from enjoying ice cream. Little Man Ice Cream serves up ice cream, gelato and sorbet and over the weekend flavors included chocolate malt, caramel popcorn, strawberry, and whopper malt (ice cream); chocolate-hazelnut, pistachio (gelato) and brandied peach (sorbet). One of their best inventions is the little dip, a mini scoop on a cone for 99c, for those times when you just want a couple of bites of ice cream. Unfortunately, I have no photos of the little dips, because both hands were full, one with chocolate malt, the other with brandied peach sorbet. 🙂


If a proper British tea is more your scene on a chilly fall afternoon, House of Commons in Denver does a lovely spread with a wide selection of teas, from the usual Earl Grey and English (and Scottish and Irish) Breakfast to Rosehip and Hibiscus to Chai, along with little tea sandwiches, scones with lemon curd, Devon cream and preserves, and petit fours. I'm not usually big on frosting, but the buttercream on these little cupcakes was just dreamy.
Housed in what used to be a filling station, Rootdown has great dinner and brunch. This time around, we stopped in for brunch before my flight home, capping off a weekend of big eating with an even bigger breakfast burrito. What's great about Rootdown is it's got a good mix of dishes for both omnivores and herbivores alike and bottomless mimosas ($13) at brunch. Since I was catching a flight later in the day, I stuck with coffee.
The breakfast burrito was stuffed (and so was I!) with scrambled eggs, home fries, calabacitas, mozzarella and chorizo, topped with a little pico de gallo and served over a red mole. RootDown also has a new-ish sister restaurant, Linger, that we checked out on Friday night. While Rootdown's menu might be described as Modern American, Linger takes a global approach, breaking it down by region with heavy emphasis on Asia. The faves there were the BBQ duck buns, the waffle cut sweet potato fries and the Sesame BBQ tacos.