Right about now, we're at the tail-end of summer, just getting into fall, but somehow it feels early for apple desserts. We'll be eating apples for months, no? So while we're in this between time, take advantage of the last of the summer fruits. If you need a fancy-looking dessert that's dead simple, one that looks good enough for company, but takes really no more effort than a crumble, this is it — Italian prune plum cake "tatin."
But first, let's take a little walk down memory lane, shall we? How did I get to this dish?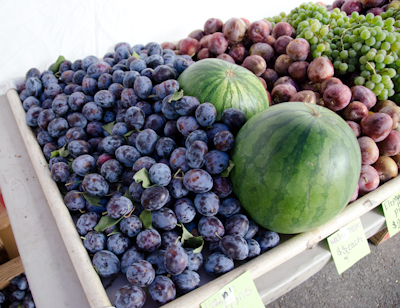 Like all good experiments, it started with a fruit I recognized as a plum, dark purply-blue and egg shaped, but one didn't know what to do with…I never saw these babies in California. The sign on them called them Italian prune plums, still not much help. But if they're meant to be dried into prunes, can they be eaten out-of-hand?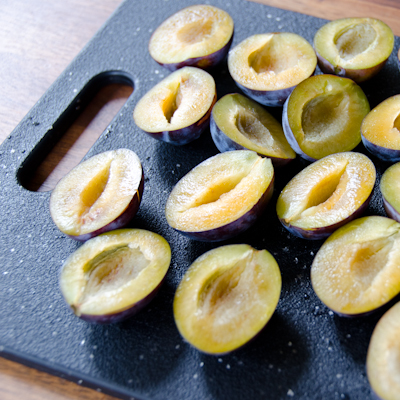 Google/Chowhound to the rescue. Halve them, pit them, and then you gotta bake or cook them. So I set off in search of a recipe and while the Marian Burros recipe in the NYT is the most often mentioned, I decided Ina Garten's Plum Cake Tatin was the one for me. It's essentially an upside down cake, and the amber sugar syrup gives it a fantastically caramelized, almost smoky counterpoint to the tang of the plums.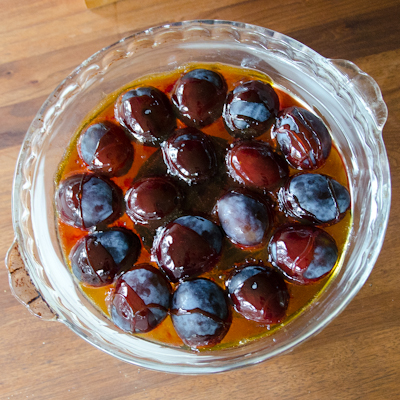 The cake has a 1/2 teaspoon of lemon zest and is buttery and light, just slightly spongy and redolent with lemon zest. This Italian Plum Cake Tatin is a winner.
Two notes:
1. I used non-fat plain yogurt in place of the sour cream.
2. Don't be skimpy on buttering the glass pie dish. I used 1 T. of softened butter.