I'm a planner, but I just can't get behind Christmas decorations in August, not even Halloween in mid-September. I'm holding onto our short summer for dear life, even if Mother Nature has other plans (um, 85F on Sunday, high 60s and cloudy the rest of this week!). So you'll understand why I made Guinness brownies this weekend. St. Patty's is so far out, I can't even imagine it, so it's the perfect time to mix beer and chocolate.

Usually I think of these things smack in the middle of the week of St. Patty's Day, when there's hardly even time to cook a proper corned beef, let alone a dessert. But see now, come March, we'll be prepared! These brownies aren't quite fudgy, not quite cakey, somewhere in the middle. I'm never really sure you can taste the Guinness, so I reduced it down and then kicked it up with a tablespoon of espresso powder.
Somewhere along the way I started thinking that maybe making a regular ol' batch of brownies and then poking it full of holes and pouring a Guinness over it wouldn't be a bad idea either…kinda like a tres leches cake. I'll save that for St. Patty's.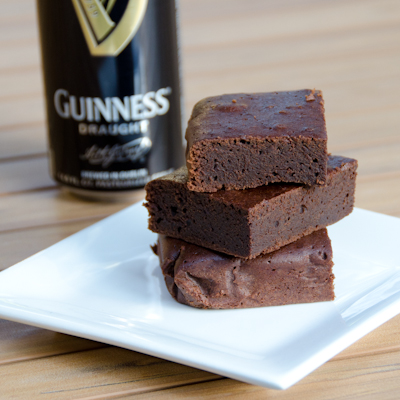 Ingredients
1 14.9 oz. can Guinness Draught, reduced down to 1 c.

5 oz. chocolate chips (Ghirardelli 60% cacao)

1 4 oz. stick unsalted butter

1 cup granulated sugar

1 c. all-purpose flour

1/2 c. cocoa powder

1 T. espresso powder (Medaglia D'Oro)

1/4 t. salt

2 eggs
Instructions
1
Preheat oven to 350F. In a medium sauce pan, reduce 1 can of Guinness over medium low heat to 1 c. of beer. Skim the foam.
2
Melt the chocolate chips and butter in the microwave in 30 second increments (or use a double boiler). Mix in beer, sugar and salt. Beat in the eggs.
3
In a medium bowl, sift together flour, cocoa, espresso powder. Add dry ingredients to chocolate mixture.
4
Line an 8x8 baking pan with parchment. Pour batter into pan and smooth the top with a spatula. Bake for 25 minutes, or until a toothpick comes out almost clean.