If you like coconut, there's almost no better use for it than macaroons. It's such a pure coconut experience, colored only by maybe a little almond extract or in my case, a good dose of lemon zest. But after spying this chewy chocolate macaroon recipe in Terry Walters' Clean Start, those pure thoughts went by the wayside. There seemed no reason not to go full bore, mixing in a good bit of chocolate, rather than just doing a dip.

So what's different here? Well for starters, this recipe doesn't have copious amounts of sugar (bonus!). It starts with unsweetened dried coconut and uses coconut milk and maple syrup as binders and an initial layer of sweetness. The chocolate rounds out the mix. Though the recipe calls for gluten- and dairy-free chocolate chips, those aren't requirements in my house, so I used 1 bar of Valrhona 71% cacao bittersweet and most of a second bar of the 85% dark chocolate. These macaroons are rich, clean, and without egg whites, also vegan. I did find the almond extract a bit strong, so I've dialed it back to a 1/2 teaspoon. You could also switch to vanilla extract.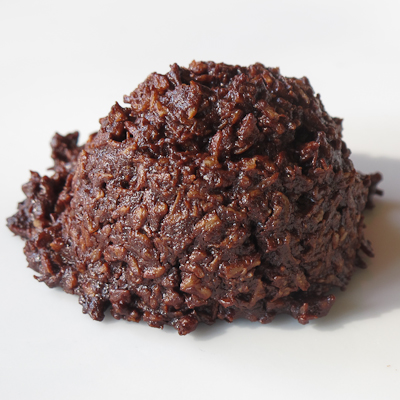 Ingredients
2 c. shredded unsweetened coconut

1/4 t. salt

1/4 c. light coconut milk

1/4 c. maple syrup

1/2 t. almond extract

1 c. gluten- and dairy-free chocolate chips or 6 oz. dark chocolate, broken into quarter-sized pieces
Instructions
1
Preheat oven to 350F. Line a baking sheet with parchment paper.
2
In a bowl, whisk together coconut and salt. In a small bowl, mix together coconut milk, maple syrup and almond extract.
3
In the microwave, melt the chocolate in 30 second intervals, mixing between intervals, until chocolate is melted. Stir the chocolate and coconut milk mixtures into the shredded coconut. Scoop the batter in tablespoonfuls onto the baking sheet. Make sure each tablespoonful is tightly packed. They will not spread on the baking sheet so they may be placed 1 in. apart.
4
Bake for 18-20 minutes until the tops of macaroons are dry.