When I was in high school, my best friend from elementary school dated a guy called Farro. By that time, we went to different schools, so I only met him once and I think we had dinner at his family's restaurant. Maybe my memory isn't what it used to be, but I'm pretty sure Farro wasn't his real name, and now that I've made the grain, I'm dying to know how Farro ends up being your nickname. Is it a diminutive of something like Bobby is for Robert? Or are you just nutty? Are you hard-headed? I don't know. But unlike quinoa, which I find just ok (and not a good nickname), I like farro's heft. That chewy bite, even after 30 or 40 minutes of cooking, with a nutty flavor – I like it. And after this salad, I'm excited to try making a risotto — a farrotto — out of it.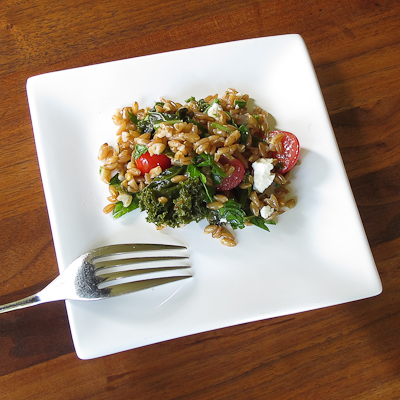 A farro salad is a good excuse to get some extra whole grains in your diet. But like most whole grains, it's not fast. I cooked the farro for about 30 minutes, but probably could have gone 40 without any trouble. Taking a tip from Marco Canora, I cooked the farro with a small carrot, half a stalk of celery and a quarter of a large onion. To continue building the flavor, I used chicken broth instead of water. It might be a little bit of a waste, since you drain the farro, but it's all in the name of flavor.
Rounding it out is kale, cooked down with a little bit of onion, garlic and water to steam. It was just regular green kale, I would have gone with lacinato if I had it on hand. Add in halved cherry tomatoes and a little bit of feta and a red wine vinaigrette and you're done. My ricotta salata was molded almost beyond recognition, so I substituted a mild feta from Golden Glen Creamery for the same saltiness. In the fall and winter, I'll replace the cherry toms with dried cranberries and maybe do a little goat cheese.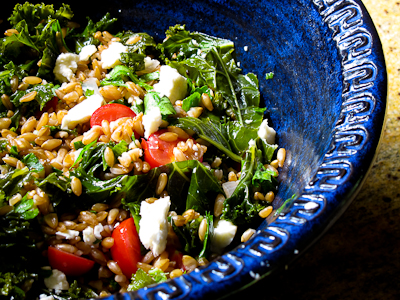 Ingredients
2 T. olive oil

6 oz. emmer farro (about 3/4 c.)

1 small carrot, cut in half lengthwise

1/2 a stalk of celery, cut in half lengthwise

1 small onion, quartered

2 1/2 c. chicken broth or water

1 t. olive oil

4 leaves green kale (or lacinato), stripped from their stalks and chopped

1/4 c. onion, diced

1 clove garlic, sliced

1/4 c. water

6-8 cherry tomatoes, halved

1/4 c. feta cheese, crumbled

2 T. Italian parsley (optional)

Red Wine Vinaigrette

3 T. red wine vinegar

2 T. olive oil

salt & pepper
Instructions
1
Heat olive oil in a medium sauce pan over low-to-medium heat. Add the carrot, celery and onion and cook until slightly softened, about 5 minutes. Add the farro and mix to coat with oil. Add chicken broth and bring to a boil. Lower heat and simmer for 30 minutes, until farro is tender. Drain farro and remove vegetables. Set aside.
2
Heat olive oil in a saute pan over medium heat. Add the onion and garlic and saute until softened. Add the kale and water. Reduce heat and cover to steam. Mix periodically and cook until wilted - 6-8 minutes.
3
Whisk together red wine vinegar and olive oil. Season with salt and pepper.
4
In a large bowl, mix together farro, kale and tomatoes. Dress with red wine vinaigrette and top with crumbled feta. Season with additional salt & pepper to taste.