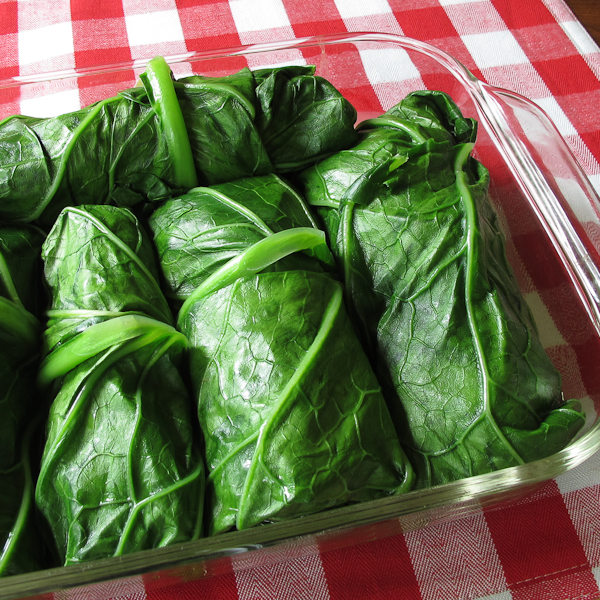 I had some big ol' collards in my CSA box this last week. They were as big as throw pillows, I kid you not. So big that they didn't fit in the crisper drawer, which quickly put them on the way to wilted…and made them perfect for stuffed collard rolls.
Collards are usually long cooked with a ham hock or andouille sausage, so I went for a filling somewhere in the middle, with ground pork, bacon and Cajun spices. While cabbage rolls often start with an uncooked filling that braises in the pot, I opted to cook it first since I was only going to throw these in the oven for 30 minutes.

These rolls would also be terrific with chicken andouille sausage in place of the pork — kind of a jambalaya tucked in a collard green blanket.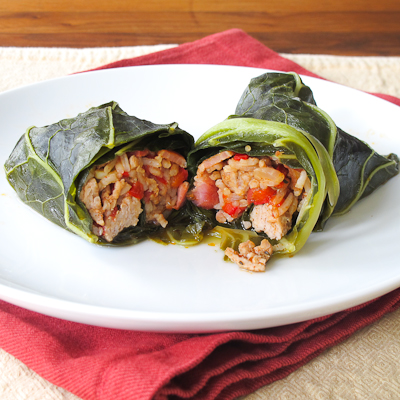 Ingredients
1 bunch of large collard greens (mine had 6 leaves in a bunch)

4 strips bacon, roughly chopped

1 lb. ground pork

1/2 a large red bell pepper, diced finely

1/2 a medium yellow onion, diced finely

1 large garlic clove, minced

1/4 t. cayenne (more if you like it spicier)

3/4 t. dried thyme

1 t. sweet paprika

3/4 c. cooked rice

1/2 c. canned ready-cut/diced tomatoes

2 t. apple cider vinegar

salt & pepper

1/2 c. chicken broth
Instructions
1
Preheat the oven to 375F. Rinse collards and cut out the thick stems. Blanch the leaves in boiling water for 1-2 minutes until bright green and slightly softened. Immediately drop them into ice water to stop the cooking and set aside.
2
In a large skillet, render the bacon over low-medium heat. Add the peppers, onion and garlic and saute until softened. Set aside.
3
In the same pan, brown the pork over medium heat, breaking it up into bite size pieces. Drain off excess fat. Add back the bacon and pepper mixture. Mix in cayenne, thyme, paprika, rice and tomatoes and cook for 5-7 minutes. Season with salt and pepper. Drizzle with apple cider vinegar. Taste it and adjust seasoning as needed.
4
Depending on the size of your collards, put 1/2 to 3/4 c. of filling near the top of the leaf. Fold the top of the leaf over the filling and pull back gently so that the filling is snug and completely wrapped. Fold over the left and right sides of the leaf and roll down to the bottom of the leaf. (Basically like a burrito). Put into a 10x7 (or 8x8) baking dish, seam side down. Repeat until all collard leaves are filled.
5
Add 1/2 c. chicken broth to the baking dish and cover with foil. Bake for 30 minutes.
6
Drizzle with more cider vinegar (or hot sauce) to taste before serving.