In college, chicken stir fry was a mainstay for me and my roommates. It was something you could make a lot of, relatively cheaply, when we had friends over for Must See TV on Thursday nights. Friends, The Single Guy, Seinfeld, Caroline in the City and ER. I liked Jonathan Silverman in the Single Guy, but that 8:30 pm slot was always no man's land despite being bookended by Friends and Seinfeld.
Anyway, the stir fry. Back then, we used San-J Szechuan sauce, a Sun Bird packet for seasoning and a big bag of frozen stir fry vegetables.

I debated doing a post on stir fry at all, because I wasn't sure I'd be bringing anything new to the table. But as I was making dinner, I discovered that although I've made a few tweaks to the recipe in the intervening years, I still like the San-J Szechuan sauce for marinating the chicken. It's clean ingredient-wise — soy sauce, sake, water, honey, etc. No MSG or mono-di-phospho-malto-blah-blah-blah — and according to the company web site, is kosher and gluten-free. I also don't find it that spicy, but that might vary by individual.
The three things I now do that I didn't in college (for stir fry):
1. Cut the chicken crosswise and start w/ garlic and fresh ginger. (Ok, that's sort of two – work w/ me here). Cutting the chicken crosswise, rather than in chunks, produces flat, thin slices that cook faster, browning up, rather than steaming. The fresh garlic and ginger create a flavor base, and the ginger is a key addition, adding another dimension of flavor.
2. Make a slurry! If you've got cornstarch, or even flour in the pantry, there's no reason to use the packet seasoning – which had you add soy sauce anyway!
3. Use a large skillet rather than a wok. I know you want to get your Martin Yan on. But I've owned a wok pan, as opposed to a real wok, and yet, the wider cooking area in a skillet distributes the heat more evenly and cooks everything more evenly.
Like I said, start with garlic and ginger and from there, the veg is more or less what's in season. This one was red bell peppers, green beans and zucchini. Other times it's just broccoli, carrots and celery, or asparagus and red bell peppers, maybe a little bok choy. Add whatever you like or whatever you've got in the fridge that goes together. Frozen veg works too, but needs a little longer to steam/cook through.
The last thing to know is this recipe doesn't make much extra sauce. The chicken and veg are certainly coated, but it's not sitting a major pool of sauce. You can up the soy sauce and chicken stock in the slurry for a thinner, more generously sauced stir fry.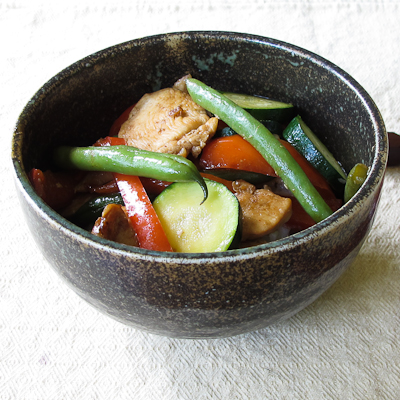 Ingredients
2 chicken breast halves, sliced thinly cross-wise ( ~.75 lbs of meat)

3 T. San-J Szechuan sauce

4 T. canola oil, divided

1 large garlic clove, minced

1 T. fresh ginger, minced

1/2 lb. green beans, cut into halves or thirds

1 red bell pepper, cut into 1/4 in. strips

1 medium zucchini, sliced in 1/8 in. disks

1 t. cornstarch

1 t. soy sauce

1/4 c + 3 T.chicken broth, divided

1 t. chili garlic sauce or sriracha (optional)
Instructions
1
Mix the chicken and Szechuan sauce in a bowl and marinate for 15 minutes. If you're in a rush, just mix it in and go.
2
In a small bowl, mix together cornstarch, soy sauce and 3 T. chicken broth to create a slurry.
3
Heat a large skillet over medium-high heat until hot. Add 2 T. oil. Add chicken to the pan and stir fry until lightly browned on both sides 3-5 minutes. Set chicken aside.
4
In the same pan, over medium heat, add remaining 2 T. oil. Add garlic and ginger and saute - be careful not to burn. Add the green beans and bell pepper and cook for 3-4 minutes, stirring occasionally. Add 1/4 c. chicken broth and cover to steam for 2-3 minutes, stirring occasionally. Mix in the slurry and allow to thicken, which will take under a minute. Stir to coat the chicken and vegetables. Mix in zucchini, cover and turn off the heat.