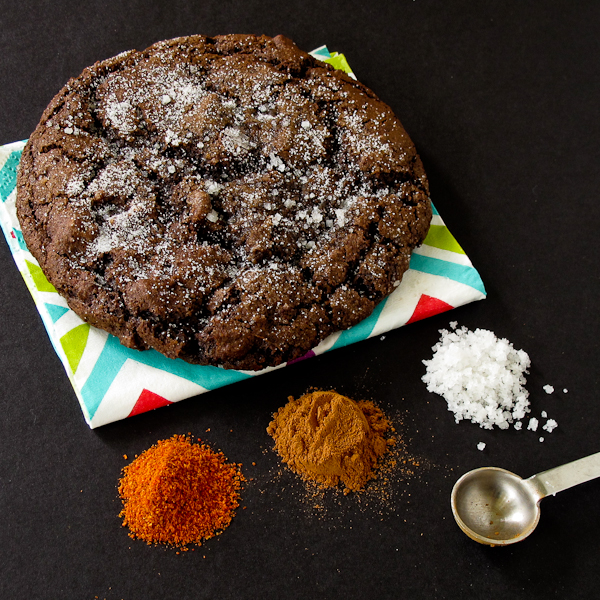 I love chocolate, but sometimes it feels a little bit like a default. If I look at a dessert menu, I will almost never choose a molten chocolate cake or a chocolate mousse. It feels a little too…common. Like it can be on the menu every night of the year without fail. But somehow, when it comes to cookies, offer me a freshly baked chocolate chip cookie, I'm in.
These chocolate chocolate chip cookies borrow a little something from the Aztecs and Mayans who knew that a little chile powder takes chocolate to a new level.
With the spicy kick of cayenne, cinnamon and 3 T. fresh grated ginger (gotta be fresh – don't cut a corner here), these Chocolate Diablo Cookies (recipe here) topped with rock salt and sugar come from the Tacofino taco truck folks. Chocolatey, cakey and with just enough of a kick to let you know this ain't your average chocolate cookie.
The original cookie we had from Tacofino is below – they're using a darker cocoa powder and we still haven't figured out what the hexagonal candies are (some kind of milk chocolate disk, I think), but the cookie is just as good without 'em.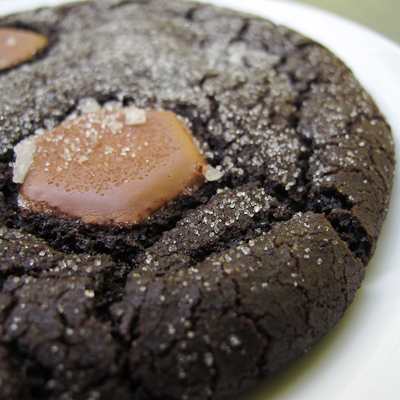 A few notes:
1. The recipe makes 10 big cookies using the Oxo scoop (or a 1/3 c. dry measuring cup).
2. I baked them on a silpat and got 5 on a pan – they do spread.
3. I sprinkled them with the salt and sugar BEFORE AND AFTER I baked them.