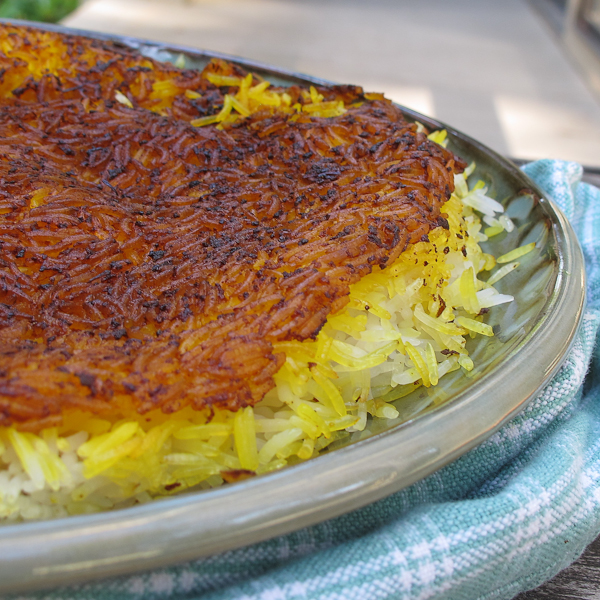 During our trip up to Tofino, we watched a show with Bob Blumer, you know, the Surreal Gourmet guy, where he faced off with 2-3 Chinese chefs in Vancouver in a Xiao Long Bao battle. Dumplings themselves are challenging and forming them quickly and consistently takes practice — yeeeeeears of practice. And, as you'd expect, for most of the show, Bob was no good at folding dumplings. I felt like Bob Blumer today going into making this Persian rice.
Eh, what's so hard about rice? Regular steamed rice? Nothing. But, this rice? This rice has a beautifully crunchy, saffron and turmeric-scented crust, and like those dumplings, getting it just right and out of the pan in one piece takes a little practice. You want it beautifully browned, but not burnt. That crispy bottom is "the treat." You know how you hold your breath when you're tapping a cake out of a cake pan or releasing something from a mold, waiting for that tell-tale plunk or suction-y sound that says it's out in one piece? That was me with this Persian rice.

It takes a few steps, first soaking the rice in salted water for two hours, then briefly boiling it, then separately creating the crispy bottom followed by a final steam for 40-45 minutes. It's worth it.
I adapted PersianFoodie's recipe dialing back on the salt and saffron (I used Spanish saffron, since it's what I had on hand). I don't know if the dishtowel (see recipe below) is really necessary for the steam if you've got a tight-fitting lid, but it was mentioned in more than one recipe, so I went with it. But I also stayed with the pot, just to make sure nothing caught on fire.
The rice did come out in one piece, but had a couple of funny dents since I didn't get it quite centered on the plate. I'll call it not bad for a first go.
By comparison, the lamb (and partially beef) kebab that went with, the koobideh, was a breeze. I just had to find the spice mix everyone says you've got to use — the Sadaf Meat Kebab Seasoning mix. It's a combo of onion, garlic, sumac, parsley, salt, pepper, tumeric and "other spices." Following Sadaf's recommendation, I used 1 oz. of seasoning mix to 2 lbs. of meat, in my case 1 1/2 lbs. of ground lamb, 1/2 lb. ground beef. It seemed like a lot of seasoning going in, but turned out delicious.
We had a simple cucumber, red onion, parsley, and mint salad dressed with white wine vinegar and olive oil and a little yogurt and lemon dipping sauce.
Ingredients
2 cups Basmati rice

4 cups water, divided

3 t. salt, divided

3 T. butter

2 T. canola oil

1/2 c. non-fat greek yogurt

1 t. turmeric

1 big pinch saffron, crumbled

1 pinch granulated sugar

4 T. water

Persian Lamb & Beef Kebabs (Koobideh)

1 1/2 lbs. ground lamb

1/2 lb. ground beef

1 medium red onion, grated

1 oz. Sadaf's Ground Meat Seasoning Mix
Instructions
1
Soak the rice in 2 cups water and 2 t. salt for ~2 hours. After soaking, drain the rice.
2
In a pot, add the rice, 1 T. oil and 2 c. water. Bring to a boil and cook for 5 minutes, until rice is partially cooked. You're looking for it to be al dente. Drain the rice and set aside.
3
Heat a non-stick dutch oven over medium heat. Add the butter, remaining oil, remaining 1 t. salt, yogurt, tumeric and saffron. Mix together and when heated through, add 1 c. of rice. Mix until rice is coated and spread evenly over the bottom of the pan. This will form the crispy layer. Cook over medium high heat for 5-7 minutes.
4
After the bottom layer cooks for for 5-7 minutes, add in 1 c. of rice, spreading evenly over the bottom of the pan, careful not to disturb the crispy layer. Once all the rice is in the pan, poke 3-4 holes in the rice with the end of a spoon (or whatever utensil you're using). Sprinkle 4 T. of water over the rice. Cover the pan with a dishtowel and then put the lid on the pan. Make sure the edges of the dishtowel are wrapped on top of the pan (so they won't light on fire). Reduce the heat to low and cook for 40-45 minutes until the rice is done.
5
When done, put a large plate on top of the pot and carefully invert the pan onto the plate. The rice should release easily.
7
Grate the red onion in the food processor (or by hand) and set aside. Separately, grind the ground lamb and beef in a food processor for 20-30 seconds. You want a slightly finer grind than from the store, but not totally pasty. In a medium bowl, mix together the ground meats, onion, and seasoning mix. Make sure to mix the seasoning in as evenly as possible without overworking the meat.
8
Refrigerate and let marinate for an hour or so.
9
Divide into 4 even chunks, about 1/2 lb. each and roll into a tube shape. Run a metal skewer through the tube. Grill over high-heat for ~10 minutes, turning half-way through.
Notes
Adapted from PersianFoodie's Persian Crunchy Rice. 1/2/17: link removed as PersianFoodie's site is no longer live and redirects to an unknown site.