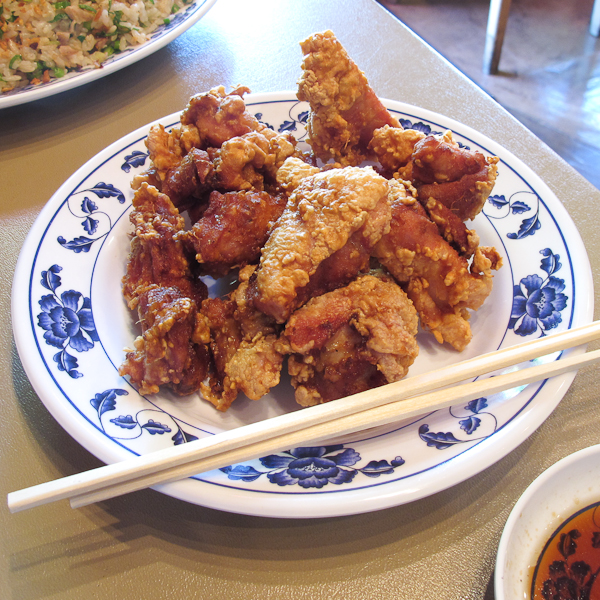 If there's a Starbucks on every corner in Seattle, right next to it is a teriyaki shop. We have more teriyaki joints (most of them unmemorable) around here than any other place I've ever lived. In fact, there's one right next door to Aloha Ramen, which just seems crazy to me. But there's no contest — you want to go to Aloha Ramen. You think you want chicken teriyaki? No, no, you want karaage, Japanese fried chicken, right next door.

Aloha Ramen is a mom-and-pop shop with 10 different kinds of ramen on the menu and usually a couple additional on the specials list. For $10, you can get a big bowl of noodles with either a side of potstickers or a massive serving of garlic fried rice. If that isn't the most perfect combination of foods…well, yes, that's it, it is the perfect combination, at least one of them. Lots of people recommend the spicy tan tan ramen, but me, I go for the kalua ramen — a big bowl of noodles with a shoyu-based broth and a generous helping of smoky kalua pork and cabbage, topped with green onions. It's not so visually striking, but its ono-licious for sure. We usually get two combos and split the potstickers and fried rice. You'll have enough rice to take home for lunch tomorrow.
The karaage was on the specials list, but they've had it every time we've been. The batter is light, the chicken moist, flavorful and delicious with or without the vinegary-soy dipping sauce. Don't skip it.
Service is quick and friendly. Aloha Ramen has maybe 6 or 7 tables of two and about half a dozen seats at the bar, so there may be a wait if you go at prime time for dinner, but we typically go on weekends for lunch and get there right at noon when they open. No waiting.
Aloha Ramen
8102 Greenwood Ave N.
Seattle, WA 98103
Open Wednesday-Sunday
(206) 838-3837