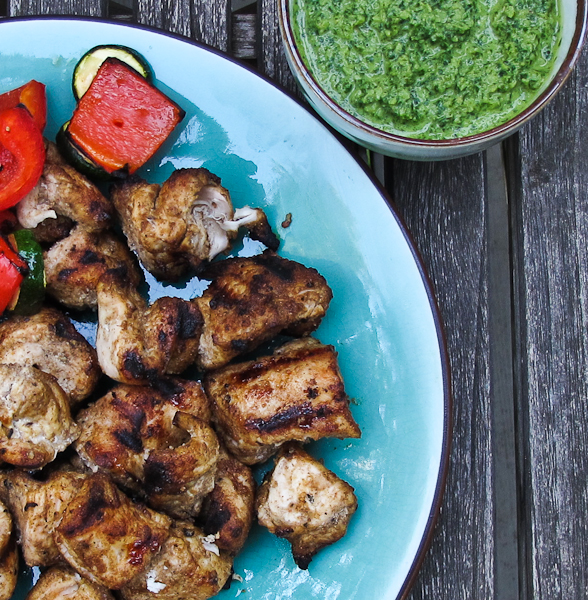 When I reach for an Indian cookbook, my go-to is Curried Favors: Family Recipes from South India
Though it's not traditional, I served the chicken with some grilled red bell peppers and zucchini, so we could get it all done at once. Of course, we had some Trader Joe's naan (garlic or plain) from the frozen section — love that stuff, it blows away the version in the bakery aisle. Just don't do what I did, thinking it would be a great idea to warm them on the grill wrapped in foil. They may have been fine when they came off, but they ended up steaming and getting a little flabby as we got everything on the table. It didn't stop me from eating it, but still.
Other great sides, depending on what time of year you make the tikka, are these cumin-roasted carrots and AOC's roasted curried cauliflower.
Ingredients
2 lbs. boneless skinless chicken breast, cut into 1.5 in. cubes

1/4 c + 2 T. canola or vegetable oil

2 t. garlic, grated

1 t. ginger, grated

4 t. ground coriander

2 t. ground cumin

1/4 t. cayenne

1/4 t. ground black pepper

1/8 t. ground cinnamon

1/8 t. ground cloves

2 t. lemon juice

1 1/2 t. kosher salt

Cilantro-Mint Chutney

2 c. of cilantro, loosely packed

1 c. of mint leaves, loosely packed

1/2 c. onion, chopped

1/2 t. garlic, minced

1/2 t. ginger, minced

1/2 t. ground cumin

1 t. serrano chile, minced

1/2 t. sugar

1/2 t. kosher salt

2 T. lemon juice

2-3 T. plain yogurt
Instructions
2
Mix together canola oil, garlic, ginger, spices, lemon juice and salt in a large dish or large ziptop bag. Add the chicken and stir (or squish) into marinade until evenly coated. Marinate in the refrigerator for 1-2 hours, turning periodically.
3
Thread the chicken onto skewers (I use metal ones to help ensure the chicken cooks through). Grill for 7-10 minutes over medium-high heat, turning once, until cooked through.
4
For Cilantro-Mint Chutney
5
Put all ingredients in a food processor (or blender) and process until nearly smooth. You want a little texture.