I'm always just a little bit jealous listening to the market report from the Wednesday Santa Monica Farmers Market on Good Food. I was a Saturday Santa Monica girl for years and when it comes to produce, that market (and California in general) can't be beat. Spring has been slow to arrive everywhere, but down south they're already talking cherries, peaches and the earliest summer squash. We still haven't had our fill of asparagus or peas up here!
At our market this past weekend, onions were in full force. Last week's green onions and leeks were joined by red scallions and chives w/ their flowers still on, not yet bloomed. They were so pretty I bought a bunch and figured I'd work out what to do with them later. (I haven't decided yet, although it looks like you can make vinegar? Let me know if you have suggestions).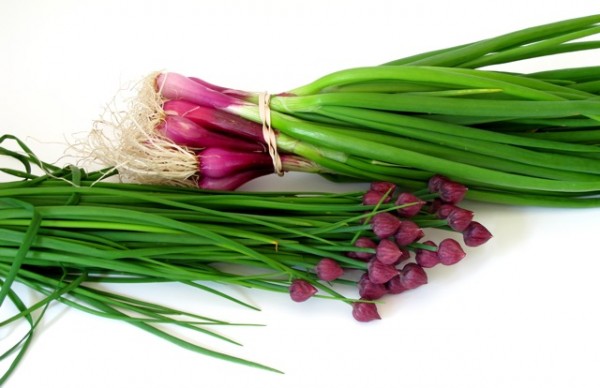 I never thought I'd be writing a post about onions, but all I know is after a long winter, it's time to put the deep, darkly caramelized French onion soup behind us and get fresh…by which I mean, get out your breath mints and keep the toothbrush handy.
You only need a little inspiration to really get into green onions. Like this. Green onions start at 3:21.
Green onions figure in a number of dishes on the regular menu around my house, including fried rice and "Japanese dinner" – tofu dressed with soy sauce and sprinkled with green onions and sesame seeds. But if there's one dish you should put on the menu while green onions/red scallions are in their prime, it's David Chang's Ginger Scallion Noodles from Momofuku Noodle Bar.
It's dead simple and so delicious. This recipe is scaled down from the original which makes 3 cups – mostly because, well, 1/2 c. of minced ginger is a lot. The added tofu gives the dish a little more heft.
Ingredients
1 bunch of green onions, chopped - the white portion and ~2 inches of the green

2 T. ginger, minced

2-3 t. soy sauce (I start here and then add more to taste)

1 t. neutral oil

1/4 t. sherry vinegar (if you have it great, if not, no biggie)

2 bunches of dried soba noodles, cooked according to package directions.

1 pkg of firm or extra firm tofu, cut into 1 in. cubes
Instructions
1
In a medium bowl, mix together the green onions, ginger and soy sauce and let sit for 15-20 minutes to mojinate.
2
Bring a large pot of water to a boil and cook the soba according to package directions. Rinse the noodles to cool them slightly.
3
Top individual servings of the noodles with the green onion mixture, add the tofu and drizzle with more soy sauce to taste.